If you recently decided to get married and started looking for a perfect destination wedding location, then having a wedding in Prague is a really great choice. As a wedding videographer, over the last 10 years I have shot a lot of weddings in Czech Republic and had discussions with many couples from all around the world.
I can confirm that all of my couples were really happy with their decision, that they chose Prague as their destination wedding location. Having a Prague wedding can be a truly beautiful experience, but it always pays to get everything arranged ahead of time.
Let's have a look at why the Czech Republic might be a perfect location for your wedding:
Prague is one of the most beautiful and popular destinations in Europe. It receives over 8 million tourists visit Prague each year.
If you always dreamed of having a wedding in the castle, then Prague is definitely for you. We have many stunning castles!
Having a wedding in Prague is cheaper compared to other cities in Europe. It's easily one of the most affordable cities on the continent for having a wedding in.
Czech Republic is located in the center of Europe, so after your wedding you or your guests can easily travel all around Europe. Let's say Dresden (Germany) is only 1.5 hours drive from Prague. Berlin and Vienna are only 3-4 hours by train.
You can have many fun activities for your guests or yourselves in your wedding day. boat trip, fireshow, historic tram tours and so on. We will talk about it more further in this blog post.
You can even rent a helicopter and arrive to the castle in a helicopter to wow your guests, who are waiting for you in the garden of a castle :). Believe me it's not that expensive and looks really awesome.
I can write a really long article why you should consider having your wedding in Prague. But if you already decided to get married in Prague and don't know where to start, don't worry, I got your back.
Choosing the destination of your wedding can be really stressful, but if you do everything correctly, then you will have a wedding you dreamt about.
Like I mentioned before, as a wedding videographer in Prague, I had covered many weddings and saw some situations where a wedding didn't go as smoothly as was planned. So, in this long article I want to share my advice to avoid those mistakes and have a perfect wedding.
Ready? Let's dive in!
Before I start, I would really recommend to watch this new video we made with my colleagues (a wedding planner, wedding photographer, DJ, wedding videographer), where we give you the best tips for your wedding in Prague. It might just help you to fill in a few of those final last minute decisions that you cannot make a definitive choice on!
Here is the video:
1. Get a wedding planner
The first thing to do is to get a wedding planner. Everything should start with this. Maybe you already have one – if you do, then good. You're going in the right direction. If you don't have a wedding planner or you are planning to do it by yourself, I would really recommend getting one. Planning a destination wedding by yourself can be really hard and stressful!
I had weddings where the couple had arranged everything by themselves and all of them didn't go well. If you live in Prague and speak Czech, then fine, I think you can try to plan everything by yourself. Even in this case, though, I would suggest having at least a wedding coordinator in your wedding party. They can coordinate your guests, suppliers, restaurant, ceremony and so on.
One of my colleagues had a couple, who planned everything for their wedding and bride was talking over the phone during the ceremony to find out what time the cake will arrive. She looked very stressful and all the photos, videos did capture this and believe me, they didn't look good. I want to help you avoid that problem!
Also wedding planners can save you some money, when you plan your wedding budget. They can recommend you if one or another service is worth the money to spend on. They could get a better price for a wedding venue, because they do a lot of events there, so they get better discounts.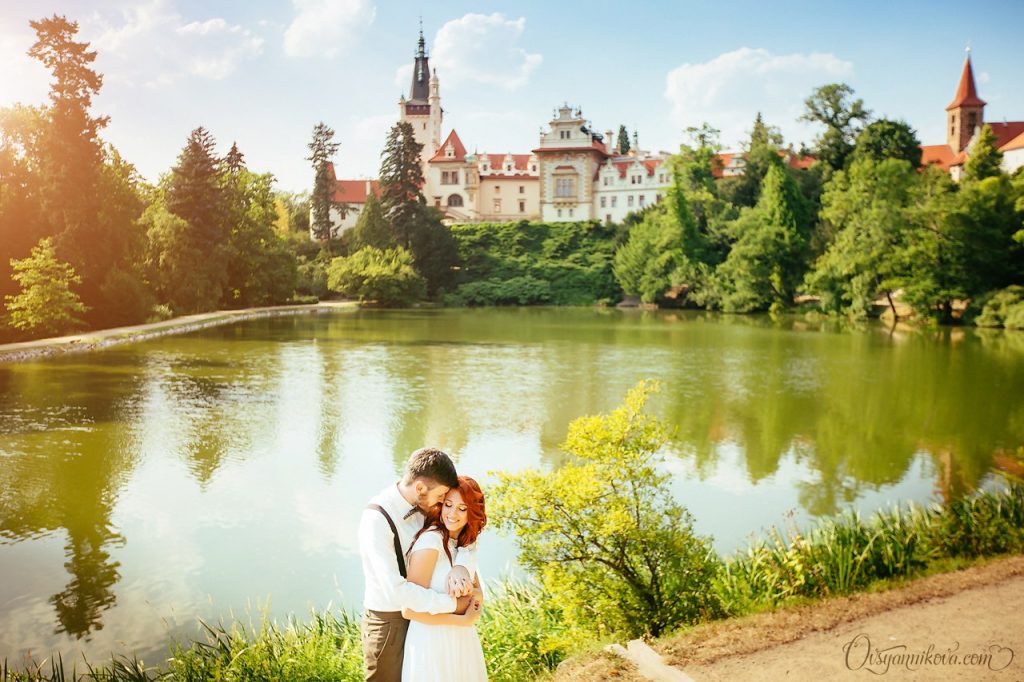 So how do I find a good wedding planner in Prague?
From my experience I can say that there are good and really bad wedding planners in Czech Republic. The quality of your Prague wedding is going to be more or less defined by who you choose. They can be very nice over the email, but on the actual wedding day things can go wrong, and thus become very stressful.
I would really suggest that you don't look for a cheap wedding planner. Many things depend on this person. I would rather pay more and get more joyful and relaxing wedding day, then a stressful one, wouldn't you?
The same thing is with a photographer and videographer. These people create a great memory from your wedding day, so don't look for the cheapest one. The quality drop-off will be noticeable, and there are no re-runs on a wedding day.
Also I would also recommend to look for reviews or testimonials about a planner on Google and Facebook. Unhappy clients always leave a bad review. As an example, check out my clients reviews on Google and Facebook to find out what happy clients look like 🙂
If you already have chosen a photographer or videographer in Prague, try to ask them if they can suggest a good Prague wedding planner. They will definitely have experience with them and could recommend you a great one. However, be sure to still review the people they recommend!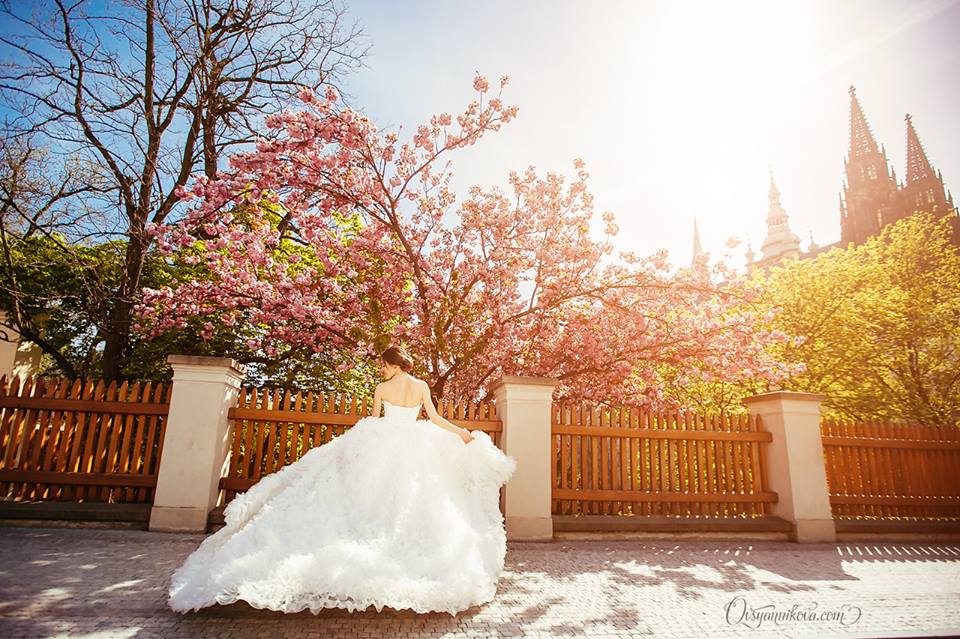 2. Choose a perfect wedding venue
You can definitely do this before you even have a wedding planner. Choosing a great wedding venue in Prague can be tricky. You have to consider many things before you do that.
I have a great article about this and also a list of the best wedding venues in Prague and around the city including the castles. You can find some very useful ideas for finding the wedding venue that speaks to you the most!
When you choose a wedding venue for your ceremony and reception, you have to consider these things:
If you want to have a wedding in one location. Let's say it's a castle around Prague. Everything happens in the same location: bride's preparation, ceremony, photo/video shooting and reception. Also could and their guests live in the castle. You don't need to arrange transportation and you don't lose time transferring guests from one place to another. This can be a good option, but sometimes it can be an expensive one. It all comes down to whether or not you are happy to pay for the simplicity of doing everything from the one venue.
If you want to have a wedding in multiple locations. This second option is useful; you split wedding venues to different wedding locations. Let's say you have a bride's preparation in your hotel. First, look near the hotel, ceremony in the Church in the center of Prague and reception in the holm with a magnificent view of the city. You will need to arrange transfers for your guests or find venues, so they should ideally be located within walking distance of each other. This option can be a little bit more stressful than first one. When you change the locations, many factors can impact your wedding schedule like city traffic, organizing guests, managing transfers and so on. Keep that in mind!
Don't forget to read my in depth review article, where I give some really useful recommendations. My reviews will really help you to choose the best venue for your wedding in Prague!
Choosing the right wedding photographer or videographer in Prague is very important. They create great memories, so after many years you can show the video or photos to your kids and tell them that you had a great wedding in Prague. As such, making sure you choose someone who fits into your wedding budget is very important indeed.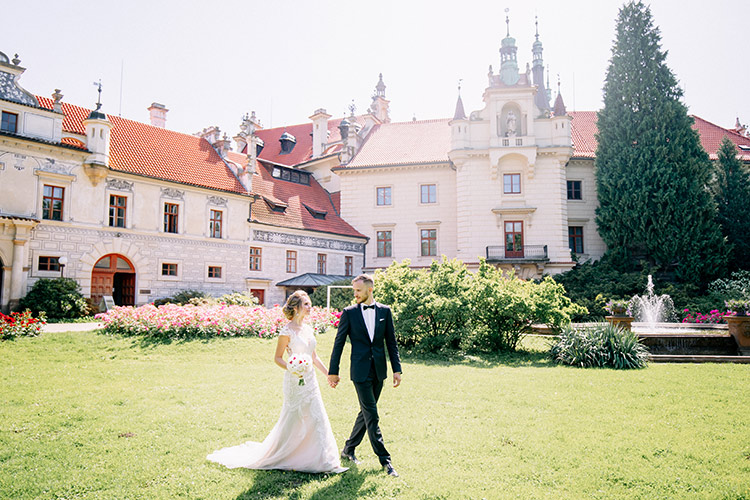 Some couples book only a photographer and don't consider any videographer. I think this is a big mistake. I'm not saying it because I'm a wedding videographer and want you to book me; it's genuinely what I believe. The thing is photos can capture still moments, but the video will really help you to remember the day in full.
You can watch the video after 20 years and hear the sound from your ceremony, speech of your guests and many other emotions. You can really feel it through the video. It's much better for helping to preserve the whole experience.
A lot of times my clients after receiving their videos, they email me saying it was a great decision to get a wedding videographer. Photos don't describe these moments in the same way as a video. You don't have to be actors – you can be shy in front of the camera.
However, a good videographer always catches the real you and the best moments, when you don't even expect it. So please, consider the video as well. You can book any wedding videographer in Prague, just get a good one! The quality will be very important. You don't want the camera wandering or shaking, or poor equipment/handling meaning that key moments – such as speeches – are forgotten.
How to choose the right photographer and videographer for your wedding in Prague?
Cheap is not always good. I'm not saying that get only an expensive one. No! Try to look first at their portfolio. Each photographer and videographer has their own shooting style. If you like their style, then this is a good start!
Read reviews. Again, read reviews. As I mentioned above in the wedding planner section, try to find the reviews about them on Google or Facebook. If you don't find any, I would be really careful before I book them. If someone leaves a bad review on a photographer's Facebook page, they can just hide the review page. The same with the Google review page, they can just delete the page or do something else.
Try to ask your wedding planner. Your wedding planner might have some recommendations. But please be aware that not their recommendations aren't always the best choice. They can work with one videographer / photographer and don't consider others. Even if they recommend you someone, try to Google that person and look for the things I mentioned above: portfolio, style, reviews.
I also really recommend that you go through my article about finding a wedding photographer in Prague, where I give you the top tips for finding the perfect photographer for your wedding in the Czech Republic.
4. Choosing makeup and hairstylist
This person is the one who makes sure that a bride will look fabulous on their wedding day. You can find the right makeup artist and hairstylist through your wedding planner or photographer. They can recommend you a good one and send you their portfolio, so you can check them out.
Also, if you're a Instagram user, then use hashtag #makeupprague to find a makeup artist for your wedding. Just look through their photos to see what they can do for you!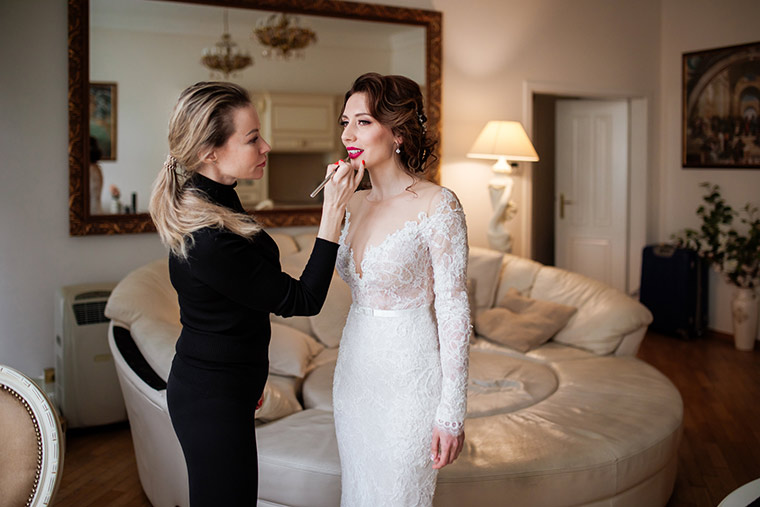 Sometimes, the makeup artist and hairstylist is the same person. Though it can be a good option, but sometimes it's better to have a separate person. If you don't want to spend more money, you can consider one person. Also, it's easier to find the right style for your wedding day with one specialist.
The drawback of this solution is that it can be time consuming in relation to the bride's preparation. Let's say it can take up to 4 hours. When it's two separate people, they can work simultaneously and this will help you get ready in 2-3 hours in your wedding day's morning.
5. Choosing a hotel for your Prague wedding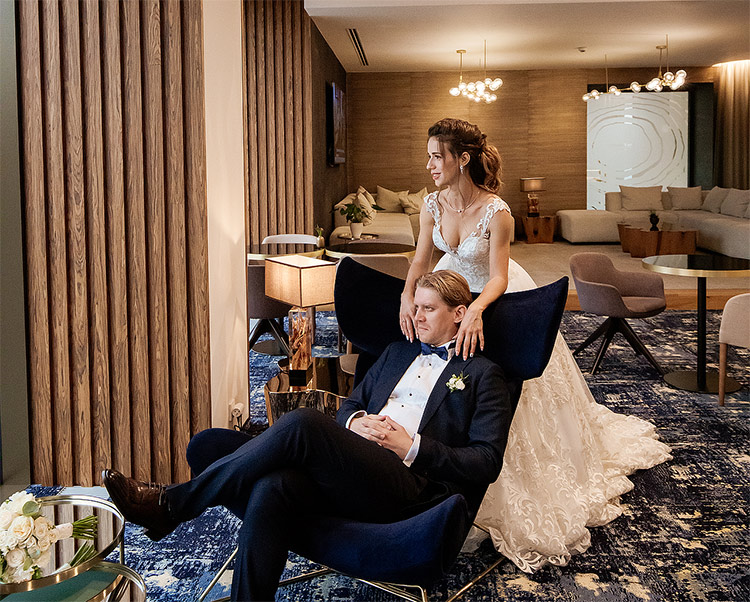 If you plan to have a photo and video shooting of the bride / groom's preparation in your hotel room, then consider these things:
Please take a biggest room you can afford. It won't be easy to fit a makeup artist, hair stylist, photographer, videographer, wedding planner, bridesmaids, and guests in one small room. Better to have an apartment room, which is easily found in Prague.
I know that a good looking spacious hotel room in the center of Prague can be expensive. Instead, you might consider having a hotel not in Old town, but let's say 10 minutes walking distance from the center. It can be Prague district 2 or 3. You will be surprised at the prices; they are typically much more reasonable.
Check Google Maps before you book a hotel, how long it will take to get from your hotel to wedding venue. If you're planning to drive, then weekdays can be heavy with traffic in the center of Prague so you might need to plan ahead for this.
6. Choosing the right transportation for your wedding
Transportation is important to consider if you're planning a wedding in the city. It does not matter if it's just you or you have many guests arriving; you will need transfers from one location to another. That's why planning everything out to be close enough that you can walk from venue to venue makes a lot of sense.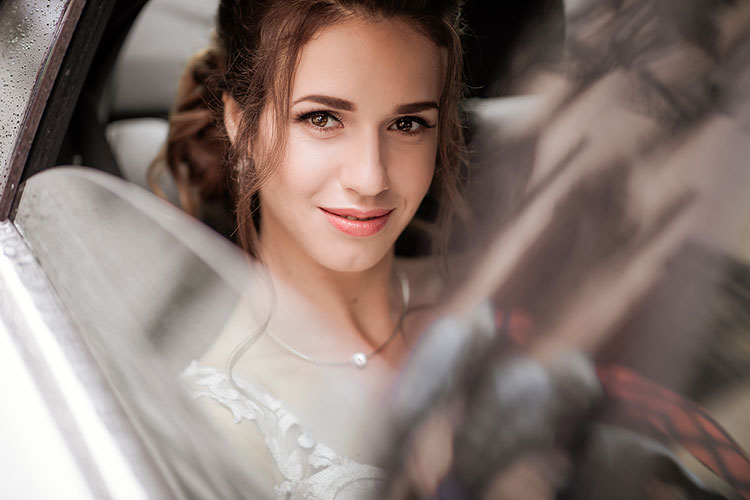 However, if the distance is over say 5-10 minutes you might wish to just get transport. Sometimes, couples I have worked with will say: "We'll just walk and we don't need transportation for that. It's just over the Charles Bridge!"
Yet that walk will take them 25 minutes. When the wedding day comes, they always regret for that decision!
Just imagine walking a groom and bride in wedding dress with high heels on paving stones in the center of Prague with massive numbers of tourists around. Also, guests are walking with uncomfortable shoes, dresses.
Believe me it won't be that easy. It might be possible to walk 10 minutes maybe, but not more. If you want to keep things nice and comfortable, invest in some transport for everyone.
How about the taxi, let's say uber?
It's definitely better than walking, but it's not a perfect solution. Each wedding is scheduled. You should stick to the schedule. If you plan to have an Uber for transfers on your wedding day, it can be stressful. You won't always be able to find available cars for you or for your guests.
It really can impact to your wedding schedule. You will end up ordering an expensive taxi, which will cost more than if you would just get a minibus for your guests. So, consider hiring a minibus.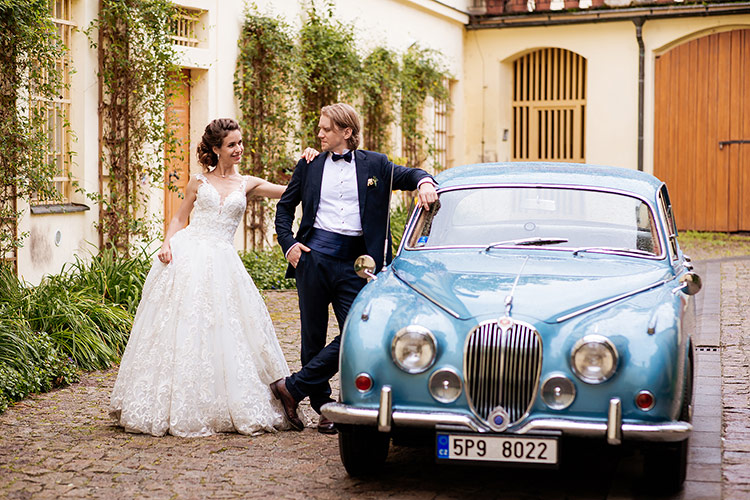 When is a taxi a worthwhile suggestion?
If you're having a wedding in the castle with hotel rooms and guests arrive there the day before the actual wedding, then using taxis can be a good solution for them.
Each guest has a different flight, so they will just take a taxi in the airport and drive to your wedding venue. No stress at all. If everyone is arriving and travelling together, though, we'd suggest you avoid this.
7. Choosing entertainment in Prague for your guests
You should entertain your guests on your wedding day, so they don't get bored. While weddings are like a massive party, there can be periods of time where people are just kind of lingering around. Some good suggestions to liven up the atmosphere include these times:
Between the ceremony and reception. Normally in this time period couple goes with us for photo and video shooting. It can take up to 2 hours, so it's useful to keep people busy.
During the reception. This means making sure you can enjoy a lot of time together, meaning that everyone can mingle and feel a major part of the whole experience.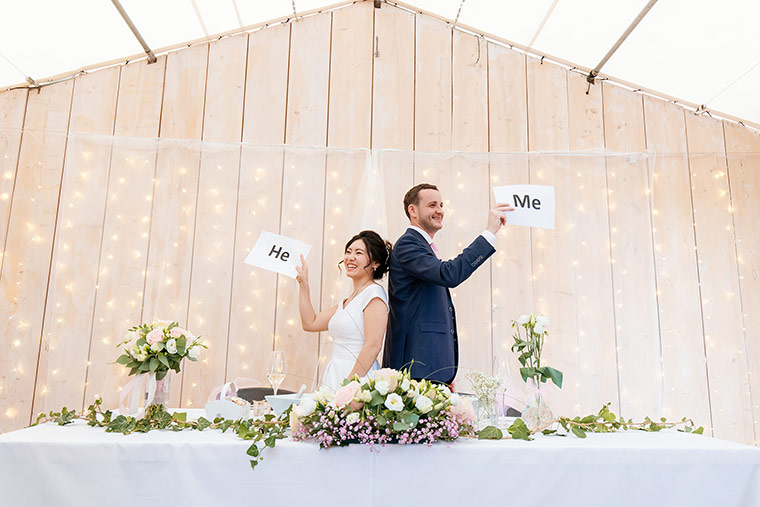 1. Entertainment between the ceremony and reception.
If you're planning to have a photo and video shoot before the reception, then you have to make sure that your guests will have fun while you're gone.
If you have a wedding in the castle, consider these options:
Arrange a buffet. Many guests are already hungry, so they can eat and drink something before the reception. Make sure you don't go too wild, though; you want to leave space for dinner!
Knight fight. Now this? This can be really fun. They can participate in the fights themselves, or just watch knights fighting. Also, if you're having a wedding in an old castle, it can be very dramatic. In this case guests won't even know that you're gone. You can definitely wow your guests with this option, and it'll be a great time-passer.
Musicians. It can be a small orchestra or just solo violin or saxophone player. It will give the vibe for your wedding day. This is great for adding a peaceful ambience to the occasion, as the music can really help to set the mood for each and every guest.
What if you have a wedding in the center of Prague?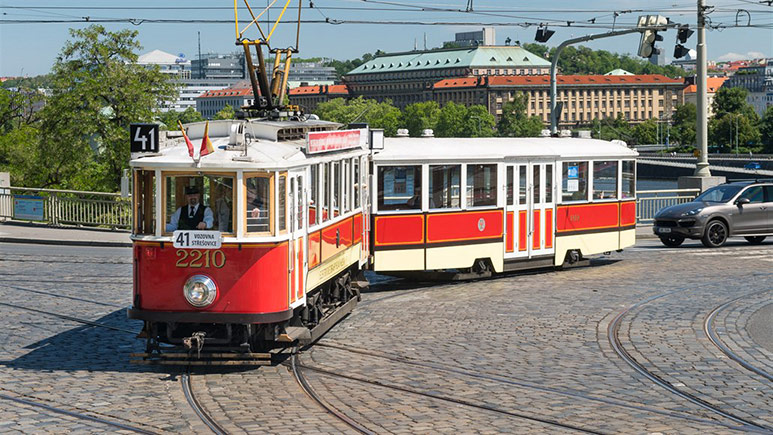 In this case you can consider these options:
Arrange a buffet with drinks. Why not throw on a few refreshments for all of your guests? This will keep the atmosphere happy and everyone well-fed.
Arrange a boat trip. There are a lot of fun tours. You can book the whole boat for your guests and arrange a buffet inside the boat. Tours normally continue up to 2 hours.
Historical tram tours. This is also a great option. Your guests can discover Prague inside the old tram. It travels all around the center of the city. You can only book the whole historical tram for your guests and it's not that expensive.
If your guests are young people, you can arrange some games. It's really fun: escape games, finding treasures and so on. Old town, old architecture and the history of the city will boost your guest's emotions even more.
2. Entertainment during the reception:
With all the chaos and the running around over, the reception can begin. The reception is the relaxed part of the wedding day. You and your guests can definitely have some fun.
Let's have a look at some of the best ways to make your reception even more exciting and entertaining: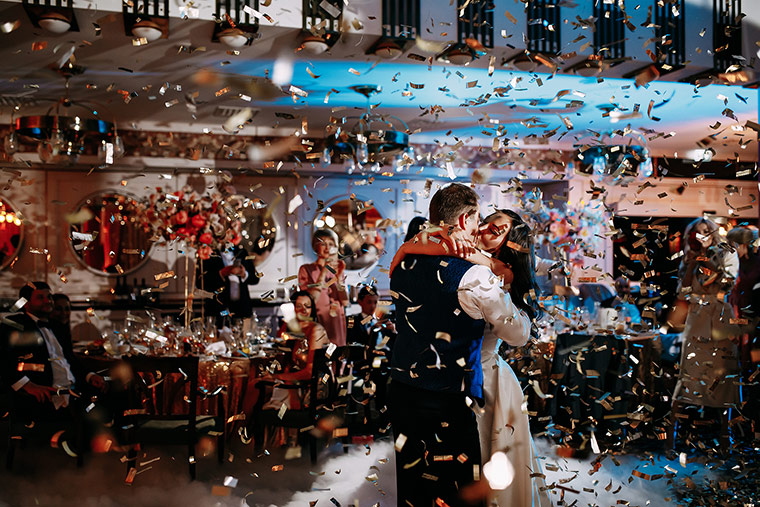 The first thing to consider is the DJ. I think the DJ is one of the important people in the reception. The DJ can help to dictate how much fun your guests will have. Even if you consider hiring a band, I would really recommend getting a DJ as well!
A FireShow is a great way to surprise your wedding guests. It's enjoyable to watch and really impressive how the professionals do tricks with the fire. Keep in mind though, before you book the team of FireShow to contact your wedding venue & find out if they give you permission for such activity. Also, sometimes fireshow team can handle the permission part for you.
A band. If you love live music, then this is a great option for you. A band will give a great vibe for your wedding reception and make all of your guests to get up and dance to the beat.
MC/Host for your reception. It's a new trend to have a MC with your DJ. They can give you additional fun like playing some dancing games, quests, victorines and so on.
Light and gymnastic shows are one of the new entertainment options in a wedding reception. If you can't get permission on your wedding venue for a fire show, you can try this option. It's likely to be accepted by all but the most conservative venues.
Brazilian dancers. This is one of the most enjoyable dancing styles. Your guest also can join to the dancers and maybe get some lessons during the wedding reception. Who knows? It could play a role in setting up your first dance for the evening!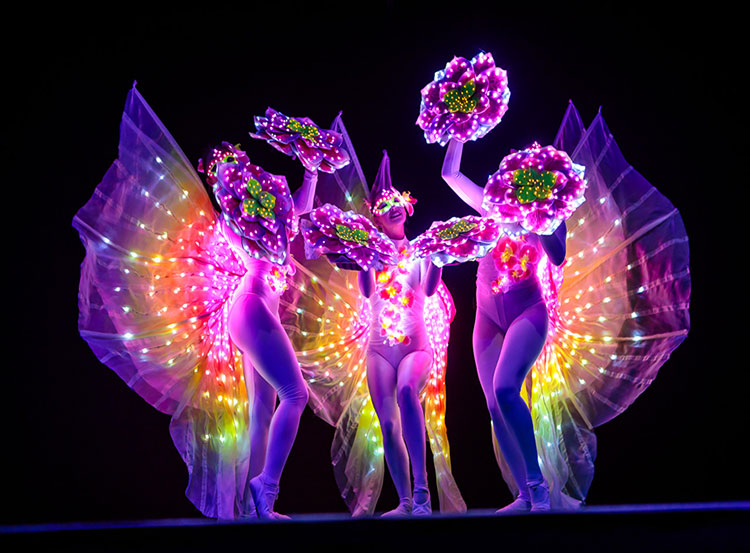 8. Finally Best tips for getting married in Prague
If you can, try to visit Prague before you book the wedding venue or wedding planner. Meet them personally. Visit your chosen wedding venue, too; it can look completely different than the venue that you saw in photos!
Your wedding should be the most memorable and enjoyable day in your life. Try not to stress and take it easy. Your wedding day is not about you taking photos or video shooting. Try to enjoy the day with your guests, and let the professionals do their job.
If you're planning to have a wedding reception and dance with your guest until the morning, then try to find out from your wedding venue if it is possible to play their music loud after 10pm. There is Czech Law, that you cannot play music loud after 10pm.
Try to organize and keep updated your wedding guests. You can create a simple wedding website, where all guests can find the latest information, schedule of your wedding.
Watch the video I mentioned in the beginning of this article. We created this video for you, where we give you the best tips for your wedding in Prague. This should make it much easier for you to put together details you'll need to make your Prague wedding as enjoyable as it should be.
This was my longest article in my blog for now. I hope you liked it!
This information is should be really useful for getting married in Prague.
My source for this information? Me. I am an experienced wedding videographer, who has had many weddings over the last 10 years in Prague. Don't forget to check out my other articles and also if you're looking for a wedding videographer in Prague, check out my portfolio and wedding packages with rates here.
I will be really happy to capture your wedding and make sure you can remember it forever!
If you have any questions or need some recommendations, then leave a comment below and I will try to answer them as soon as possible.
Have a great, memorable wedding in Prague!