Planning a wedding in Prague takes a lot of work, even if you are having an really small wedding. Throw Covid into the mix and there is a lot to consider when planning your walk down the aisle.
As always, love conquers all and people are still getting married despite the pandemic. This is heart-warming to see.
As a wedding videographer in Prague, I have lots of advice for couples getting married, especially the ones who are newly engaged.
Guest Numbers And Venue Are Your First Step.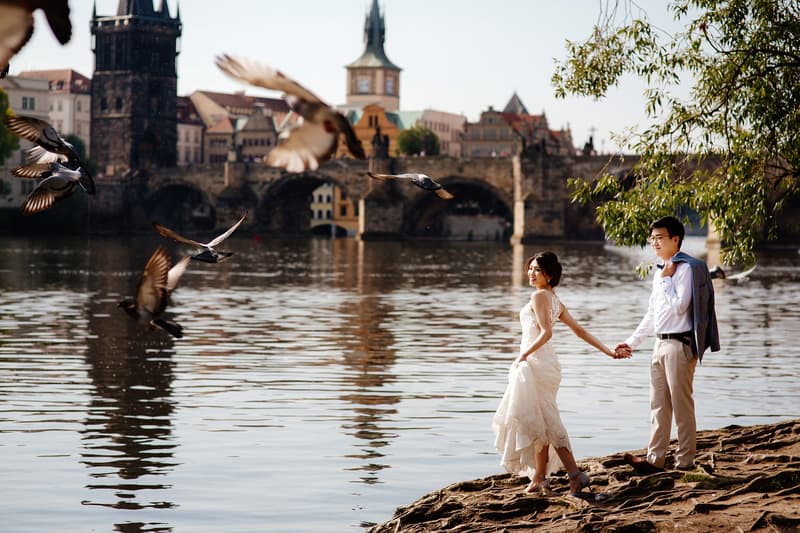 First, you should consider your guest numbers and Prague wedding venue. Micro weddings and intimate weddings are becoming very popular for couples who want to get married rather than wait for Covid to pass.
By keeping numbers low, you don't have to worry so much if the government places restrictions on numbers allowed at public and private gatherings.
We don't know what will happen in the future, but the lower you can keep the guest list, the better. Remember, you can always increase your numbers later, closer to the wedding date.
Once you decide on guest numbers, it's time to look for your wedding venue. In Prague, we are blessed to have so many gorgeous wedding venues, from castles to gardens to cathedrals. You can even get married in a palace.
Keep in mind which venues might be more likely to close to the public if there was a Covid outbreak. For this reason, hiring a private villa or having a garden wedding at home might be a safe option.
Getting married at a hotel is also quite popular during this pandemic we are living through. 
The good news is when you have a small wedding, your venue options are wide open. Your budget might also be looking healthier since you don't need to allow for food and drink for 100 guests.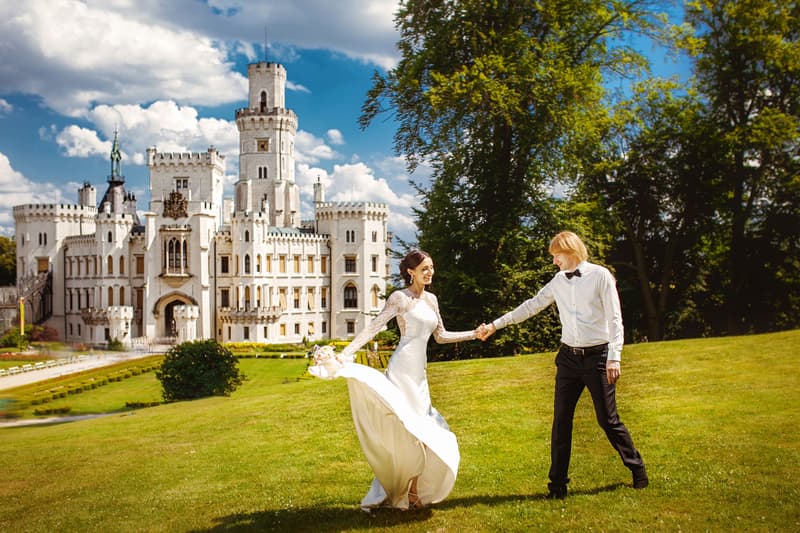 You can spend that money on more lavish florals, luxury guest experiences and elaborate lighting and decorations. 
Hiring A Wedding Planner Is A Wise Move
Hiring a wedding planner in Prague is a good idea if you are getting married during Covid times. If the Covid-19 disrupts your plans in any way, your wedding planner on the ground will be invaluable in sorting out issues and making new arrangements.
You can think about it like having wedding insurance – hopefully you won't need it, but you will be glad of the foresight if you need it. Also, a Prague wedding planner will make the planning process more manageable and save you lots of time and money.
Then you can focus on wedding dress shopping, beauty treatments and researching epic honeymoon locations in the Czech Republic. 
I've seen wedding planners and everyone in the bridal industry have become more flexible and understanding in these uncertain times. Date changes, booking terms and guest numbers can be adjusted if needed.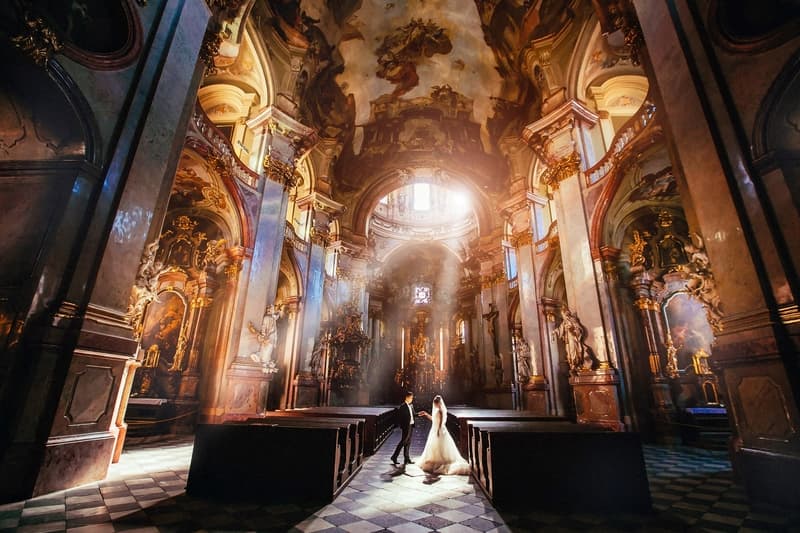 It's nice to see our industry step up and make it easier for couples to tie the knot in Prague. 
On the wedding day, you should consider social distancing. Ceremony seating should be spaced out as much as possible while still maintaining the intimate atmosphere of a small wedding. For dining, if you don't have many guests, you might like to have a long table or groups of small round tables. 
Be prepared to be flexible because a lot can happen between now and your best day ever. You can still plan to have a band or DJ with dancing but try not to be disappointed if, in the end, dancing is prohibited.
We are optimistic that the Covid situation will improve quickly, but being mentally prepared for every situation is wise. I admire all the brave love birds planning a wedding in Prague during Covid – you all deserve a medal!
Be creative with your wedding favors and consider pretty wedding favors like hand sanitizer bottles personalized with your names and wedding date and custom-made face masks.
You can get inventive with face mask designs to match your wedding theme. Sequined masks are perfect if you have a luxurious wedding with elegant vibes or want to get words like love printed on them if your event is more casual.
Bride and Groom or Just Married text masks are super cute for the newlyweds.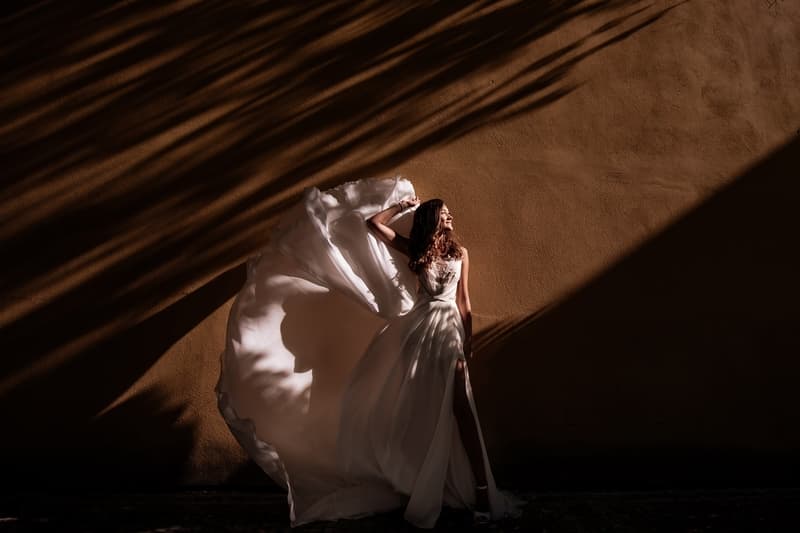 Live streaming your Prague wedding
We are getting a high demand for live streaming and fast edits for our weddings. Streaming the ceremony is a new service we offer and a great way to let friends and family be guests virtually.
Sometimes they get dressed up at home and pop some champagne while others view in their pajamas. Everyone loves tuning in and feeling like they are a part of the Prague wedding, even though they can't be there. 
Our express edit service or on the day edit service is another way to get your wedding day highlights online to share with loved ones before you even get home from your dream honeymoon.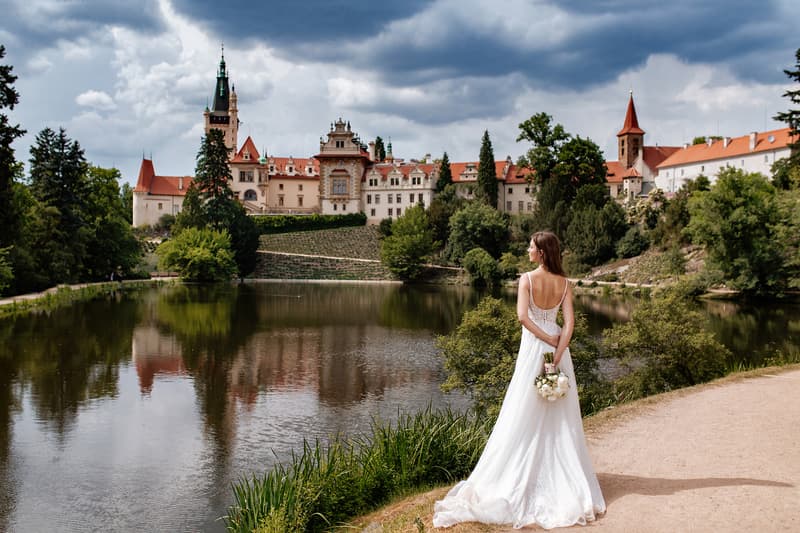 This thoughtful gesture is a nice way for couples to let their guests know they are sorry if they had to cut the guest list.
We need to know in advance if you might like this service to factor in the time and have the editor on standby to get busy creating your gorgeous video as soon as possible. 
Finally, if you are booking flights to get to Prague, one of the most romantic places in the world, make sure your booking is flexible and get travel insurance.
Final thoughts
We hope this article has given you some inspiration to get busy planning your wedding. Prague is such a glorious place to get married. Your wedding videography will be epic as we explore the historic European city sites and take advantage of the stunning architecture.
Preserving your wedding memories is my joy and pleasure and I can't wait to tell your beautiful love story. 
As your Prague videographer, we will be flexible and understanding as ever. Feel free to drop us a line any time to discuss your wedding photography and videography requirements and have a chat about your big day.
If you need venue or vendor recommendations, feel free to ask too!