Prague is one of the most beautiful cities in Europe to visit and especially to get married in. If you already planning have a wedding or pre wedding in Czech Republic, and you're looking for a wedding photographer in Prague, then you are in the right place.
I've done a lot of weddings last 10 years as a wedding videographer in Prague. I've also worked with a lot of photographers. So, I can give you best 7 tips when you choosing a photographer for your wedding in Prague.
1. Portfolio
The portfolio that you look at for any Prague wedding photographer should be immediately impressive.
It should be the first thing that you look to when you check out any potential wedding photographer. They should have a variety in the style and personality of the weddings that they take on, and should have an eye for capturing the right image.
Take a look through their portfolio, and you should want to see a good mix of styles and approaches. Weddings are deeply personal, so you should notice a variety in shooting style and shape time and time again. Once you find a good set of photos that suits your style, you may have found your Prague wedding photographer.
Once you do find a good photographer for weddings, make sure that you ask to see their wider portfolio so you know exactly what you are dealing with.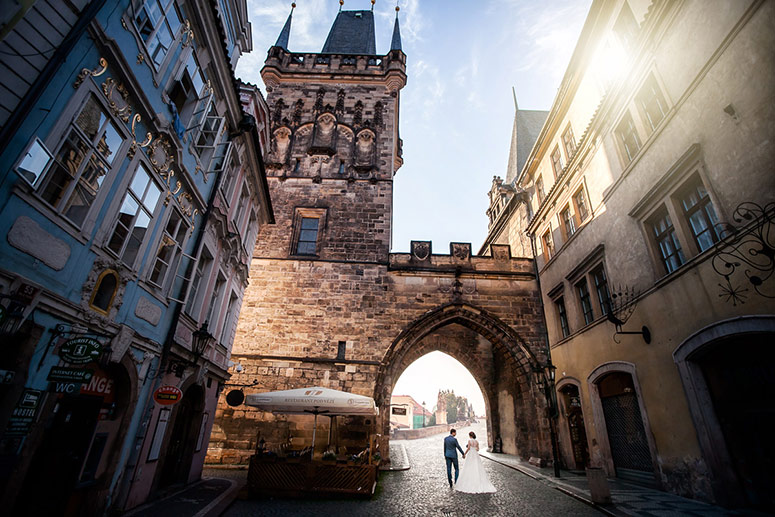 2. Personality
As a wedding videographer in Prague, I've seen many relationships between photographers and couples in a wedding day and what I can say is choosing photographer only by their portfolio is not right thing to do.
Working with a wedding photographer in Prague means making sure that you get on together, and that they can enhance the atmosphere of the day.
Try to arrange a meeting with any photographer who you like the style of in their portfolio: it's important that you connect in terms of personality as much as professional appeal.
Try and build a genuine rapport with the photographer if you can. If you feel like you can work together, then you should almost certainly look to look a bit further. At the very least, they should be open to a Skype call – but it's better to talk in person if you can.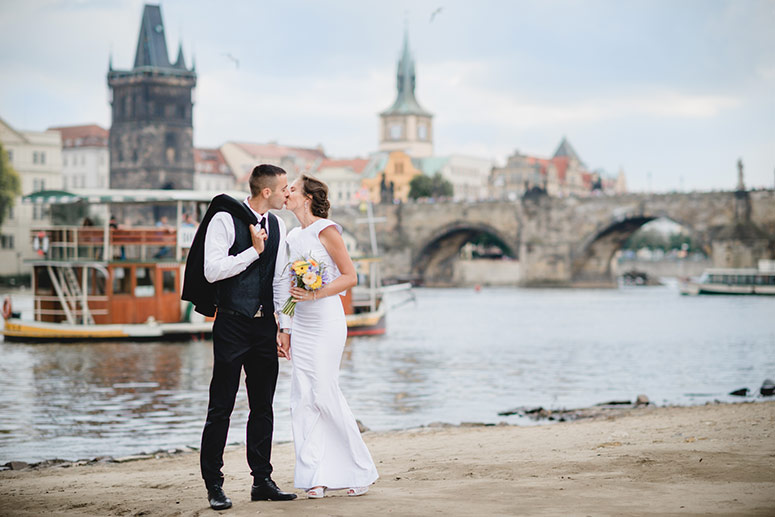 3. Reviews/ Recommendations
One of the other important steps before you choose photographer in Prague is checking reviews about him/her. You can do this on many different websites. Sometimes photographers provide links, where you can read reviews. Others might need you to look at their social media page.
I would recommend to first look to Google reviews: these are more or less always genuine, and very hard to manipulate. You can find them when you write your photographers name in Google search. See for example my wedding videography reviews on Google.
Also, I would recommend to ask your wedding planner in Prague or wedding videographer about your photographer. There is a good chance that they worked together and they can give you some recommendations about who to call.

It's important that your photographer and videographer can work well together. From my experience, some wedding photographers in Prague care only about their photos and don't work as a team. This can have a negative impact on the end result and the quality of the videographers work. Keep this in mind.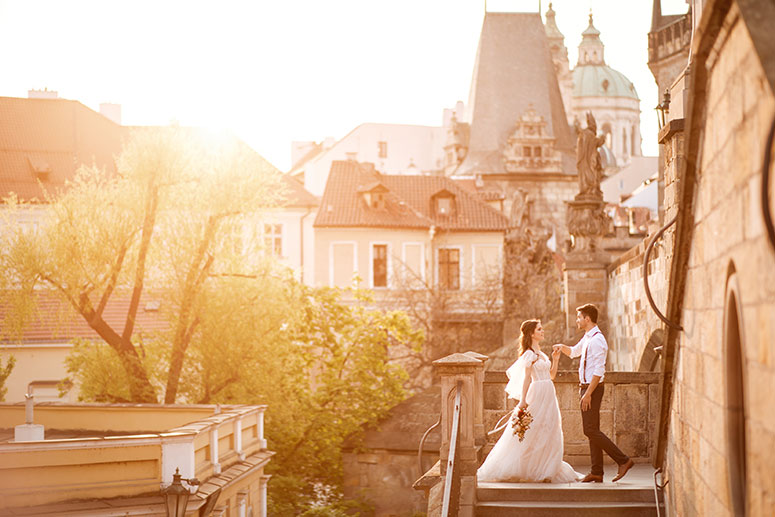 4. Destination vs local photographer in Prague
As I mentioned above, I've worked with many photographers in Prague and most of them are local.
Sometimes I get asked, what is the best, should you choose a local or destination photographer?
I always suggest using a local one.
You ask why? Because they know the city better than others. This means that they will know:
Where to shoot in Prague.
The many beautiful, hidden locations.
When the light is good for a shooting – and when it isn't so good.
Where to get the best sunset or sunrise shots with Prague in the background.
How to avoid crowded tourist places and still get great shot with landmarks etc.
If you're planning a shooting in Prague, then I would recommend to ready my this article
I can continue this for a long time. Destination photographers don't know that, even if they shoot in Prague regularly. Nobody knows the capital better than Prague wedding photographers!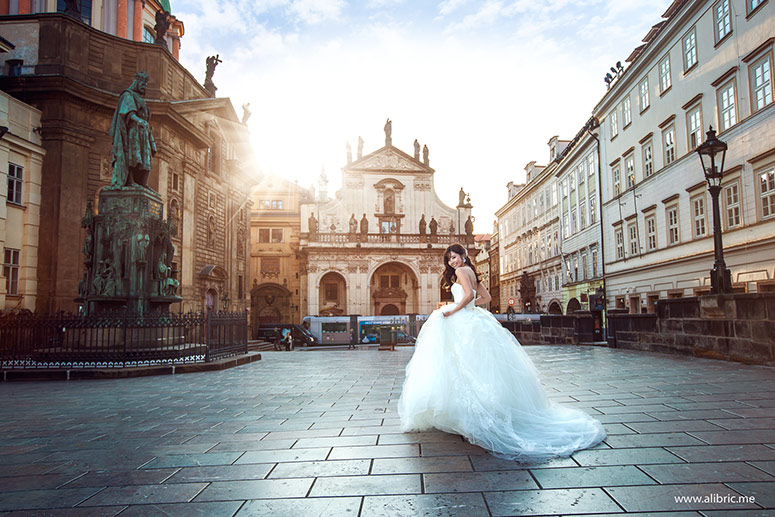 What if you must bring your wedding photographer to your wedding in Prague?

Sometimes people choose to do this. If you have a preferred photographer who you bring to the wedding with you, you might need to consider this.
They know all these things I mentioned above, so they can help the photographer to get best spots around Prague. If you need an excellent wedding videographer for that, check out my wedding video portfolio.
I can show you such great locations that even some local photographers don't know :)!
5. Compare wedding or pre wedding photography packages in Prague
Pricing is the next thing that you need to consider. Be sure to read every wedding photography package clearly, as it might not quite give you everything that you need.
You want to know that you are getting things like engagement sessions, photo albums, JPGs, second shooters and the chance for added hours shooting time. Make sure you know what you are buying.
Normally wedding photographers in Prague charge from 70 up to 200 EUR per hour.
It can be different when you choose one of the wedding packages they offer, though. Also, I would not recommend looking for only to the numbers of photos you will get in a wedding packages when you compare them.
It's not the quantity, but the quality that matters.
Someone can offer you thousands of photos – but what if the photo quality is low? Quality always comes before quantity when choosing a wedding photographer.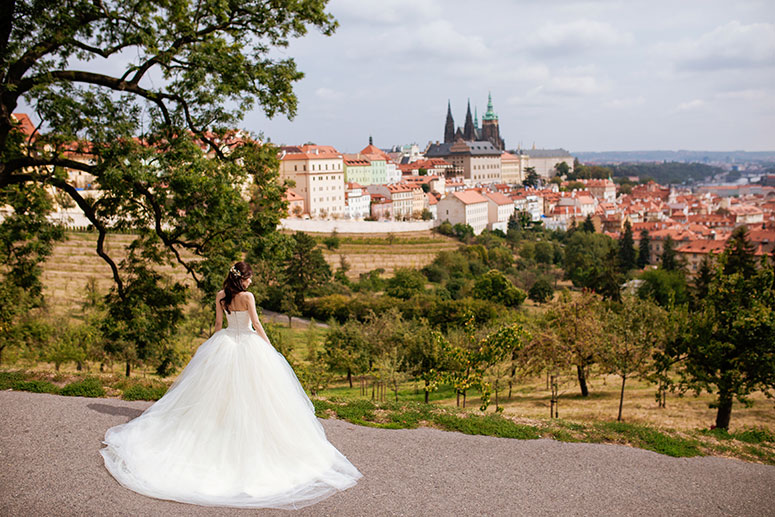 So, how many hours will you need to consider hiring a photographer for?

It all depends on your wedding day plan:
If you're planning only pre wedding shooting around Prague center, then anything from 2 up to 8 hours is more than enough.
In case you have a wedding ceremony and you want to take pictures around landmarks of the city, then I would suggest that you take at least a 4 hours package.
If you're planning get photos with bride/groom preparation in a hotel, then a wedding ceremony in Prague, as well as photo shooting around the city & a reception with guests, I recommend get at least 8+ hours wedding photography package.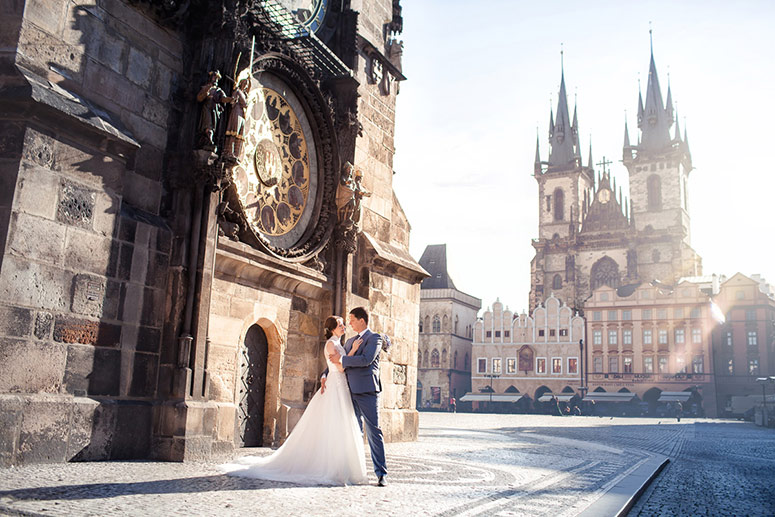 6. Delivery
Once your wedding or pre wedding has taken place, you will want to get the photos as soon as is possible. You need to find out how and when the photographer will deliver all of the wedding photos to you. Find out how long they take to turn the images around – this can take varying times, depending on who you hire.
I would suggest that you fix a maximum date with your photographer when your all photos must be delivered.
However, it's important to remember that Faster isn't always better. Also, I know some wedding photographers in Prague deliver a few best shots with post production within one week, so you can share them with your family and friends. If you would like to get some photos now and more later, keep that in mind.
7. Bonus Tip: Google Results for photographer in Prague
One thing to think about when hiring a wedding photographer in Prague is that search engine placement does not guarantee quality. Someone could get very high on the search engines purely through investing heavily in their marketing and optimizing their website for search engine visibility. I appreciate you probably don't care about that, but just don't assume that the top photographer for your search query is going to be 100% right for you.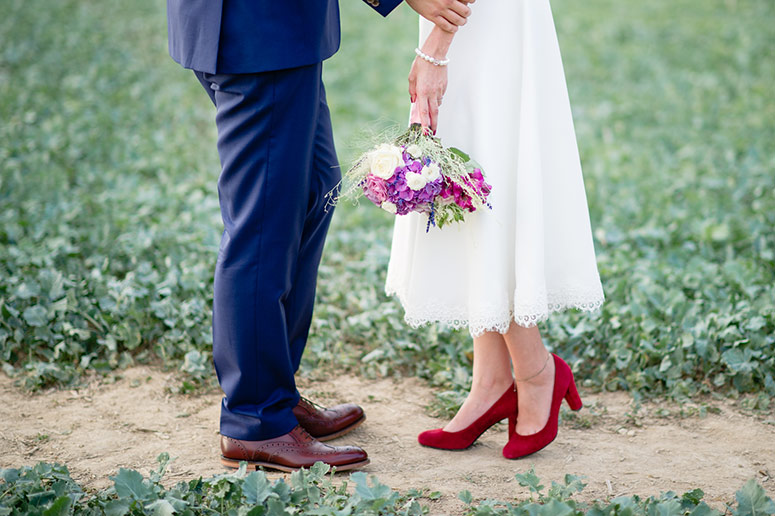 Look at as many photographers as you can, and keep an open mind about who to hire – and when to hire them.

That's important, as it will help you to get the best end result and thus the happiest production. The end result is always the most important, so make sure you hire someone that you can trust – not just who ranks highest.
Final thoughts
A Wedding Photographer is important to have involved on your wedding day. He or she can help you capture the moments you would like to remember.
While some might think video and photography is excessive, it's not the case. This is one of the biggest moments in your life: capturing every last part of it is going to be so important.
The day flies in, and many minor but significant events might pass you by.
You'll get to see many more real-time emotions in a video, so having a wedding photographer in Prague and a videographer in Prague makes sense.
Don't let the big moments – from the toasts to the "I do" moment – be lost to your memory.
Don't believe me? Take a look at my portfolio. Make sure to check out my wedding videos and couple's emotions I captured. This will help you to see that it wouldn't be possible to do this only with wedding photos.
If you don't have photographer yet, I would suggest looking into these photographers below. I've worked with them many times and would recommend them: