Prague is one of the most popular and beautiful cities in Europe for having your pre-wedding shooting session. Many couples from Asia including Hong Kong, China, Taiwan, Singapore etc arrive in the Czech Republic to have outstanding photos and videos taken.
Then, they can show them at their real wedding back at home. That's why photo shooting in Prague for pre-weddings is so popular.
So, how much does it cost to have beautiful Prague pre wedding?
As an experienced Prague pre-wedding videographer across the last 8 years, I have shot many videos for Asian couples. I think I'm your best man to tell you from inside the industry how much each service actually costs, so you can plan your budget ahead.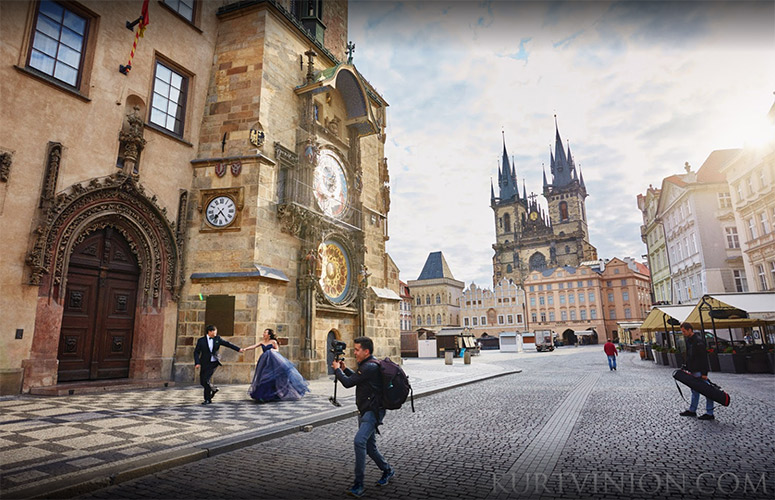 So, let's jump to the numbers and advice, so you can save some money for your future Prague pre wedding shooting. Your Prague pre wedding shot should not be too expensive, so let's look at how you can spend less and get more back in return.
Here are the things we need to get started:
For the best experience, I will be writing prices in € EUR, so you can easily convert rates to your own currency. Also, I suggest reading my article about the best tips for having pre-wedding in Prague. This will help you to further save money and make the right choices.
1. Cost of living in Prague
Most of my couples stay in Prague for 4-7 days. It's an optimum period of time, meaning that you do not have to rush. As such, you can get awesome pre-wedding photo and video shooting. So where to stay in Prague? I would suggest living in the center or really close to the center.
Even though hotels are not very expensive here, I would recommend renting Airbnb apartments. There are a lot of them in the center, so you will have larger space than most hotel rooms. You will also appreciate that space when you start getting ready for a photo shoot with your makeup artist!
Good Airbnb apartments can cost anywhere from 50 euro to 150 euro. The golden middle price is 75 EUR for two persons in Prague 1 district. So, it's really good price compared to other cities in Europe.
2. Rates of photographer in Prague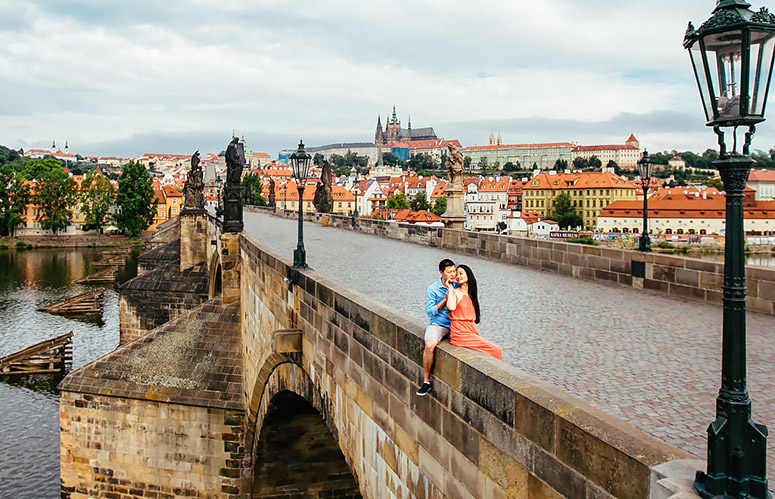 Finding the right photographer for your pre-wedding shoot in Prague is very important. As a wedding videographer in Prague, I know many good photographers – and also bad ones!
So, choosing a photographer by looking only his/her portfolio and rates is not a good idea. If you think you've found the one, then try to find the reviews about him/her. What do the photographer's old clients say? What was their experience?
You can do that on Google reviews or, alternatively, via social media such as Facebook. For example, see my awesome clients reviews on Google and Facebook. I'm very proud of how people rate my work!
So how much they cost?
You can find good photographers from 100 up to 200 EUR per hour. I wouldn't suggest going with anything lower or more than that. So, let's say you will take 6 hours photo package – on average, the cost will be around 900 EUR.
Read my article about how to choose the right photographer in Prague and how many hours are optimal for the pre-wedding shoot in Prague. This should help you to get a better idea of how much you should be spending moving forward.
3. Makeup and hair style rates for a pre wedding in Prague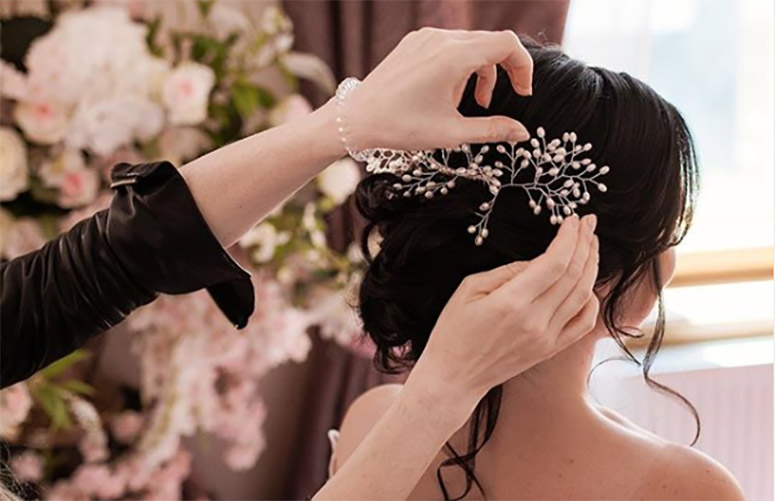 Another important thing to consider is finding the right makeup artist and hair stylist. This will help you to look stunning in the shooting day. I would suggest choosing a person who does makeup and hair as well. You will end up saving some money here.
I know many professionals who do both at the same time. For example, my go-to makeup artist and hair stylist does both for 160 EUR. She is really good and talented. When people book me for the video shooting, I always suggest to them taking her, because I know she will do her job excellent.
So, if you already have the photographer and looking for a makeup artist, try to ask your photographer. They will always suggest you good one, whom they work with and they sure she will do the job well. So, let's say that the average rate for makeup artist and hair stylist 160 EUR.
4. Having a wedding ceremony with prayer in church in Prague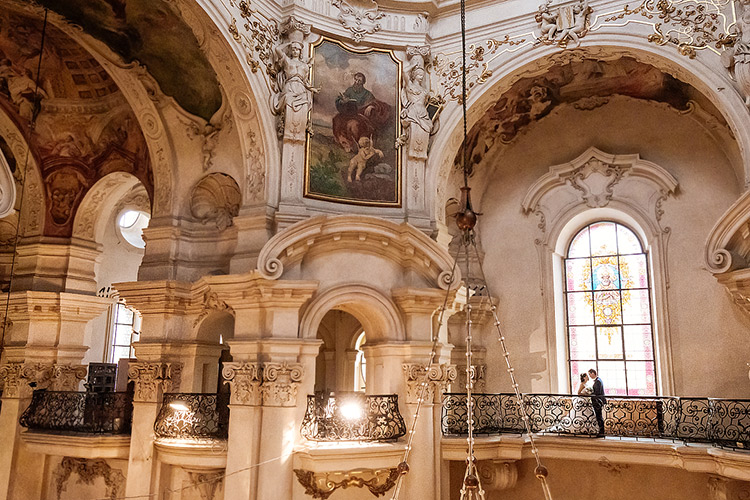 In the last couple years, I've seen many of my clients from Asia having a symbolic ceremony with prayer in one of the beautiful churches in Prague. Also, I get asked many times, if I recommend having such a ceremony and how it looks like in a video and photos, if it worth to pay extra for that.
I always say "Do it"!
The reason for that is that you're not only get blessing from the prayer, but also you will have permission to get inside to the most beautiful churches in Prague. It means for you having stunning photos and video in the interior of the church. The architecture is amazing, and well-worth seeing.
So which Churches in Prague I suggest and how much they cost?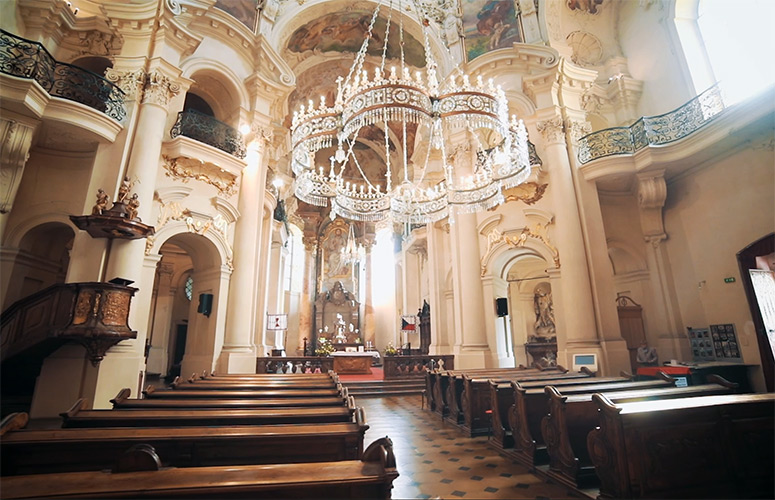 It's one of the most stunning churches in Prague I've seen in my life. The interiors are really gorgeous. Here you will get most superb photos and videos that you will watch after many years to remember how fascinating was to have a ceremony there.
For a ceremony here, the price is around 1300 EUR.
For that price you will get one hour for you all alone inside the church without tourists, a 30 minute ceremony with a prayer and some other organization services from an agency. So, you will have around 30 min for photo and video shooting after the ceremony ends. From my experience it's more than enough time for the shooting.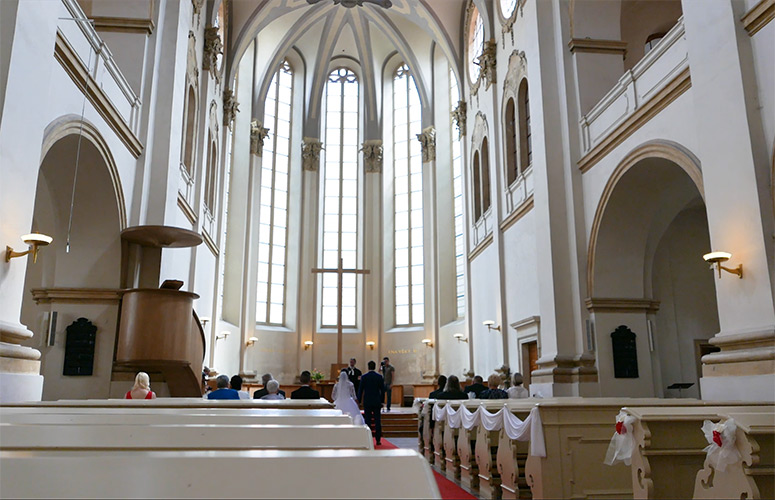 Second church is St. Salvator Church is one of two churches in the Klementinum near Old Town Square. Prague's largest Protestant church of St. Salvator (Holy Saviour) is a rare example of Renaissance-era sacred architecture commissioned by Emperor Rudolf II. It cost less having symbolic ceremony than in St. Nicholas Church.
One hour price with prayer is 1200 EUR.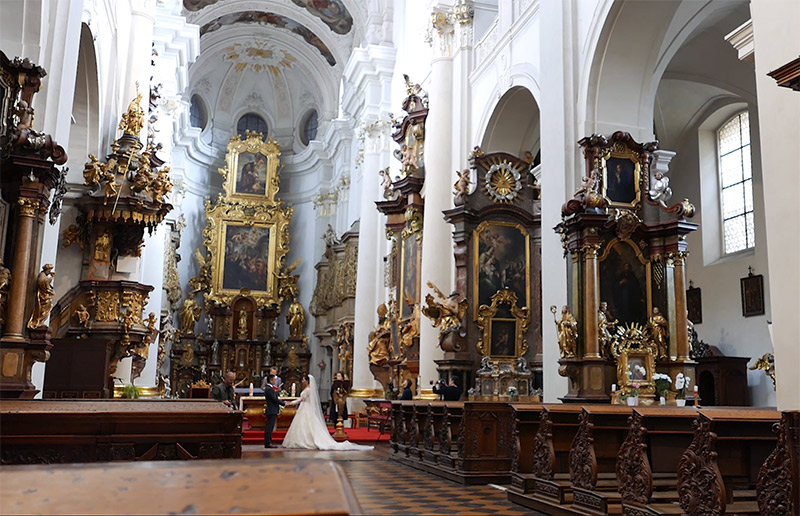 The third recommendation I have for you is Saint Thomas Church, which is an Augustinian church in Malá Strana, Prague. The church was built in Gothic style on the foundations of an older, most likely Romanesque, church. It's really beautiful inside and also more expensive to have a wedding ceremony here.
Price is around 1500 EUR.
If you are choosing between them, I would suggest going with St. Nicholas Church and you won't make a mistake. However, feel free to explore: Prague has many beautiful churches to offer, so make sure you look around and make a choice you are 100% happy with.
If you need contact to agency, who can handle your ceremony at one of these Churches, shoot me an email, I will send you a good one.
Also, I recommend reading my this article
This should help you to make a better decision on what kind of location and venue you might wish to visit in Prague for your Prague wedding shoot.
5. How much cost pre-wedding videographer in Prague?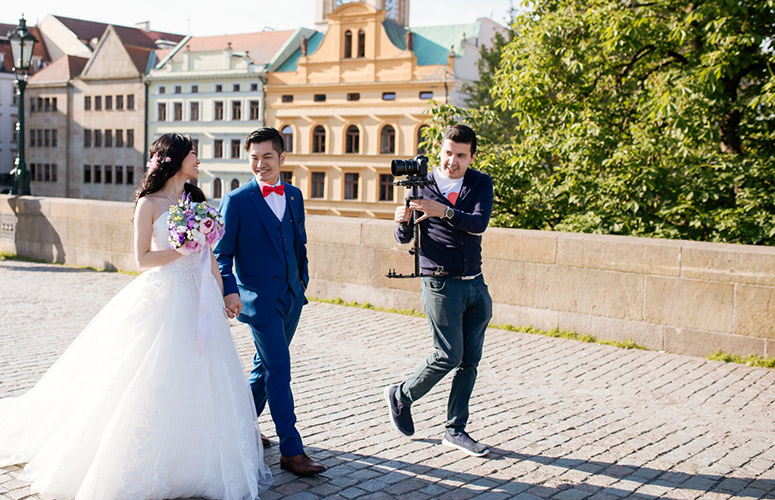 Many people who arrive to have pre wedding shoots in Prague take only a photographer and don't consider video shooting. I think they're all making a mistake. Photos cannot replace the emotions captured in a video. I don't say that because I'm pre-wedding videographer in Prague and want to sell myself to you. No, it's not the case.
I'm saying that because I've got many happy reviews from my clients after they received the final video I sent.
Regularly, I receive correspondence from previous clients, saying that it's really awesome, that they're watching it many times and it will be really great memories for their whole life. They were really happy that they took not only a photographer, but also videographer.
Because the photos and videos are really awesome and what is important is that they are different. They both help to re-ignite memories of the most important day in your day.
So how much it cost having the videographer in Prague?
I can speak for myself. My packages cost from 495 EUR for 3 hours and 890 EUR for 6 hours. More about my packages and portfolio you can find here.
6. Transportation cost
Prague is a really big city.
It's 5 times bigger than Paris, but the center of Prague is not that big. So, if you have an Airbnb apartment or hotel in Prague 1 district, you can almost walk everywhere. You will need a taxi or Uber only to get from/to Prague airport, which will cost around 15-20 EUR.
Otherwise you can always take a tram in the center, which tickets cost around 1 EUR.
We always walk in the pre-wedding shooting day. The only time we call an uber, when we need to get to the Prague Castle area. It's on a hill, and walking uphill in the dress will be really difficult and time consuming!
So, I suggest to call an Uber or Bolt. Before you arrive, I recommend that you install the apps for Uber and Bolt to your mobile phones and add your credit card as a payment method.
Sometimes, the Bolt taxi app is a little more expensive than Uber, but it's also has more available drivers around Prague.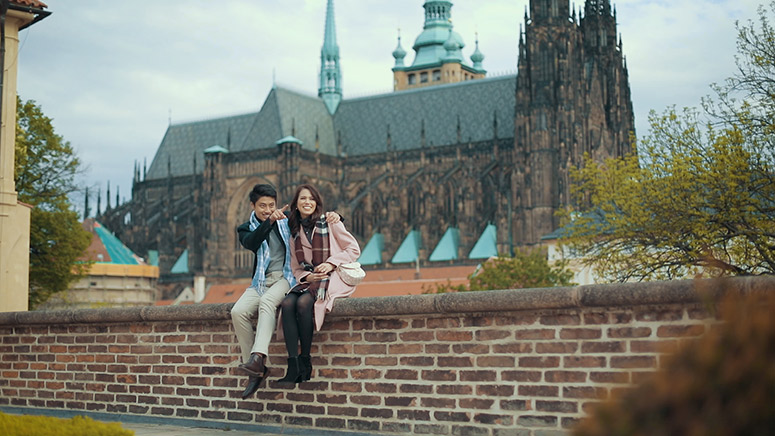 7. Other living costs such as food, beer etc. in Prague
Prague is not expensive city compared to other cities in Europe. Just be aware tourist traps in Prague, when you are choosing a restaurant, taking a taxi and changing your money to Czech Crowns. I would suggest you to watch YouTube series about Prague, which recommend the best locations to eat or change your money and other best tips.
So, expenses can be anyway around 40 euro to 150 euro per day. It depends what you do, where you go etc.
8. Summarizing costs for having Prague pre-wedding shoot.
So, if we calculate everything I mentioned above, you can have your pre-wedding shoot in Prague for around 2000-4000 EUR including apartments, photographer, videographer, makeup and hair stylist, transportation, living costs for 4-7 days.
If you need tips for good photographer, makeup artist or wedding agency who can arrange your wedding ceremony at a church in Prague, as well as a quality, experienced videographer for your pre-wedding shoot, then email me and I will send you the best professionals contacts in Prague and rates.
Also, I really recommend that you read my other articles to get to know more about the wedding or pre-wedding shoot in Prague. Having a Prague wedding shoot is great fun, but only if you make sure that you plan it all out accordingly and make the correct decisions!