So you decided to have your wedding in Prague and started planning everything: wedding venue, wedding planner, photographer, videographer and so on. One of the first things you must choose is the best location for your wedding from many different wedding venues in Prague.
So which one to choose?
As a wedding videographer, I shot many weddings the past 10 years in different wedding locations in Czech Republic. Also, I worked with many wedding planners, DJs, wedding hosts and photographers in Prague.
So, I shot the video where the best wedding experts (in my opinion) give you the top tips for wedding venues in Prague. They'll also tell you the reason why they think it's the best location.
Here is the video we did with my colleagues:
If you watched the video above, maybe you already know which location is a better choice for your wedding in Prague. But if not, I've noted some of the best wedding venues in Prague for 2021, given more information why you should choose them, and added some bonus wedding venues, so keep reading.
Before I start, I want to divide these venues into different categories, so it will be easier to find you the one.
So, you're getting started with your planning. First, you have to make a decision:
If you want to have a wedding in one location, starting from preparation of the bride until the cake in a reception.
You'd rather have a wedding in different locations: hotel, wedding ceremony venue, and reception.
The first option gives you a more stress-free wedding day, so you or your guests don't need to transfer from one location to another.
Let's see other pros:
You don't need to pay for mini-buses or other transfer services for your guests between their hotel to the ceremony and reception. Maybe only transfer to get to the location once.
Guests can relax in their castle or hotel room between the ceremony and reception.
Let's say if you rented the castle, it's just yours for the whole day, no tourists, no strangers around, just you and your guests Also your schedule is flexible. You can start the ceremony a little later if you're getting late with the preparation or change some plans a little and many other benefits.
After the wedding reception, tired guests from the dancing can just walk to their rooms.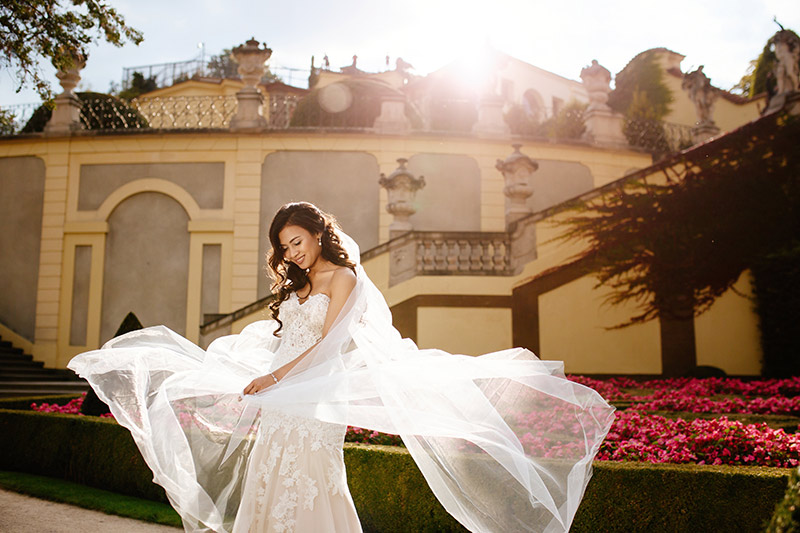 Now some cons:
Renting the whole castle or a hotel with the ceremony and reception venues including rooms for your guest can be costly.
Many castles are not in the center of Prague, so it's like a 30 min drive from the city. So it will get difficult to take photos or videos in the historical center of Prague between the ceremony and reception. You're limited with a castle garden for the photoshoot. Here, I would suggest you make pre-wedding shooting in Prague before or after your actual wedding day.
Some services like the photographer, videographer, music band, and DJ can add extra for getting to the location if it's outside Prague.
The second option gives you more to choose from. You can pick the hotel you liked for the preparation, a beautiful church for your ceremony in the center of Prague and a reception venue on a hill with a magnificent view of the city.
Pros:
You have many options for wedding venues, hotels to choose and everything is in the center of Prague.
You can do photo and video shooting in a beautiful historical center of Prague between your ceremony and reception.
Different wedding services like photographers, DJs, florists, and videographers can be cheaper than having a wedding outside of the city.
You can have your ceremony in a beautiful church in the center of Prague. Believe me, you can find really gorgeous churches in Prague.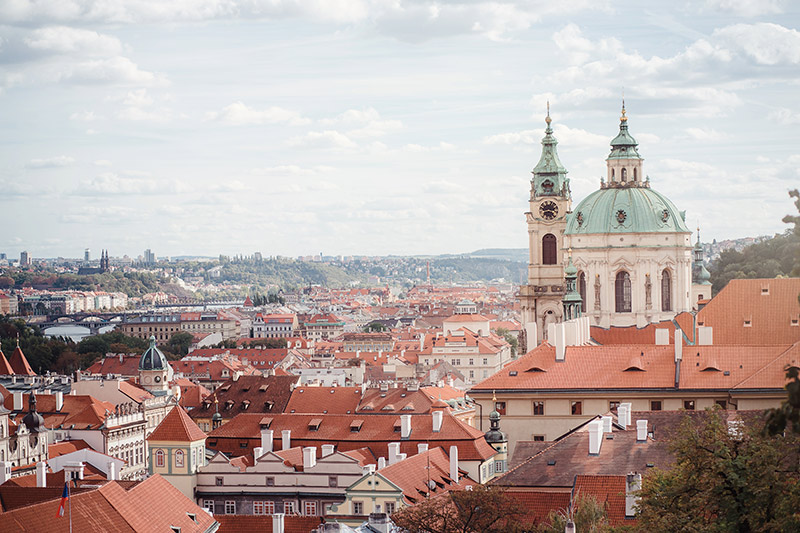 Cons:
If you have many guests, you will need the transfer between their hotel, ceremony, reception, and back to their hotel.
Driving around the city can be time-consuming and can ruin your schedule. Prague has really heavy traffic in the center during weekdays and sometimes also on Saturday.
Paying for different locations sometimes can get more expensive than having everything in one venue
Now you know the pros and cons of having your wedding in different locations in Prague. If you ask me which one to choose, I would say, it depends on how many guests you have.
When it's just you without guests or up to 10 guests I would say choose the second option. If you have more guest then you can choose between the two options, which suits you better.
Also I recommend to read my new blog post "Ultimate Guide to your Wedding in Prague"
Also, you have a third choice, which is something from both options. You can find the hotel in Prague, where you can stay with your guests and have a reception there. Along with that you should find the venue for your ceremony close to your hotel, so your guests can just walk to the ceremony and walk back to the reception.
It can be a church or beautiful garden. I will give you some advice on such wedding venues in Prague.
Now let's talk about the best wedding venues in Prague and around the city:
Vrtba garden
Chateau Mcely
Mandarin Oriental Hotel Prague
St. Wenceslas' Vineyard at the Prague Castle
Palace Zofin
Zlatá Praha restaurant | InterContinental Prague
Chateau Troja
Pruhonice Castle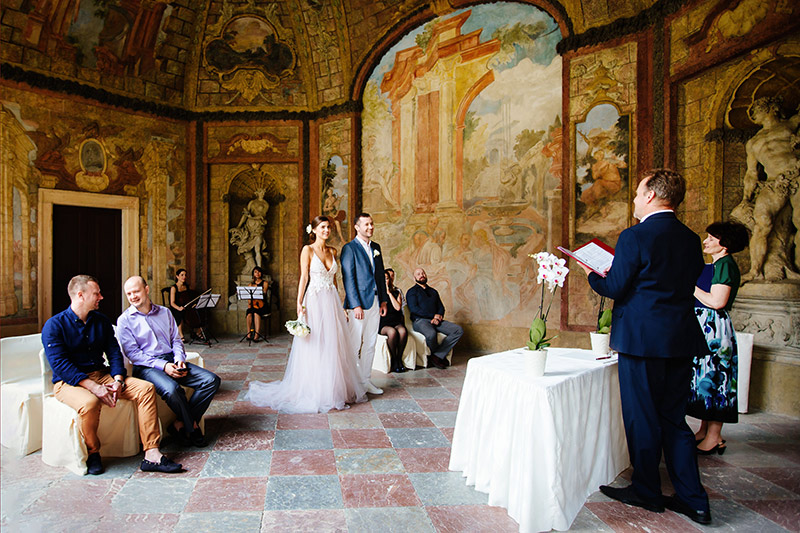 Vrtba garden is one of the most beautiful Baroque gardens in the center of Prague. It's really close to the popular Charles Bridge. Garden has many stages, if you go up to the balcony, you will see the magnificent view of Prague roofs.
If you have up to 20-40 guests, I would really recommend this venue for your ceremony. It is also great for the photo and video shooting inside the garden with the view of Prague.
If you up for having your wedding in one location, you can also book the hotel Aria for your accommodation and reception. It's next to the Vrtba garden. Hotel also has a private entrance from inside the garden, which is really convenient. This fits to our third option, which we talked about above.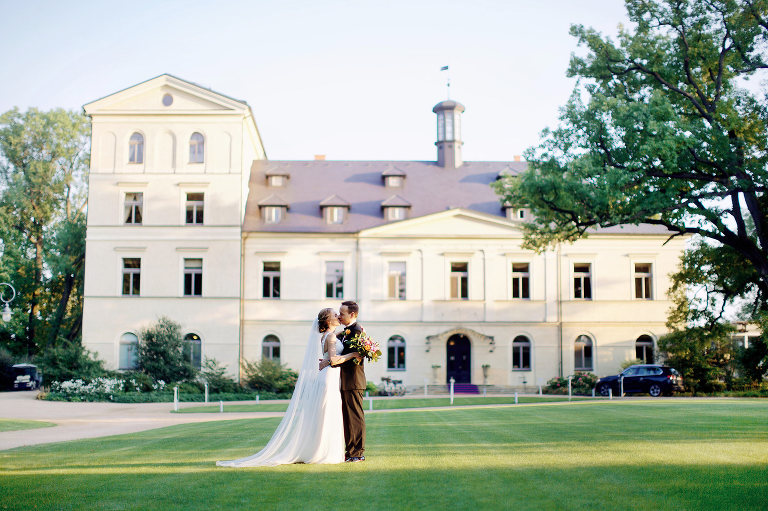 This wedding venue is one of my favorite locations. It has everything you need for your wedding. You can have a ceremony outside in their garden or inside in the terrace, you even have the option to have the ceremony in their small intimate church. They have beautiful rooms dedicated for a bride preparation.
I really love shooting here. It's just 30 min from Prague and in a small village named Mcely.
If you want a more relaxed wedding with your guests, surrounded with beautiful forest and far from city rush, I would really recommend this option. It can accommodate up to 55 guests and 100 person reception venue. This is the best choice for our first option, which we talked about earlier.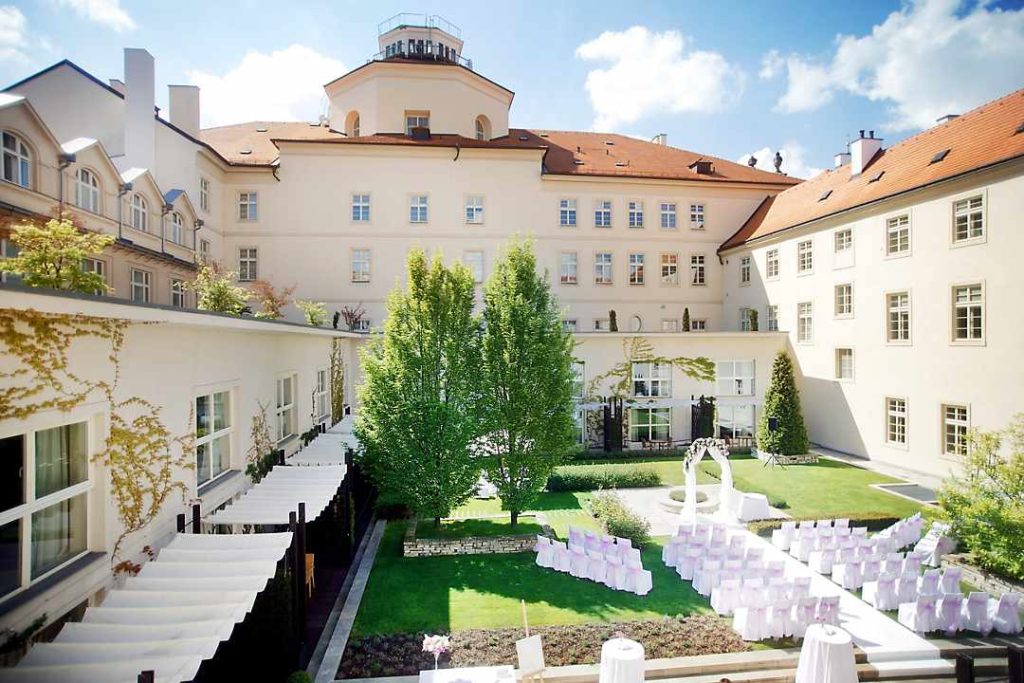 This hotel is in the center, near the Vrtba garden. Mandarien Oriental hotel is an all in one venues in Prague, so you can have accomodation here, have a wedding ceremony in their garden and reception for guests up to 100.
If you prefer other location for your ceremony, here is the list of venues in walking distance from the hotel, so you can have a ceremony there and come back for the reception to the hotel:
Vrtba garden. We already talked about this venue, it's about a 5 min walk to this place.
Saint Thomas Church in Malá Strana in Prague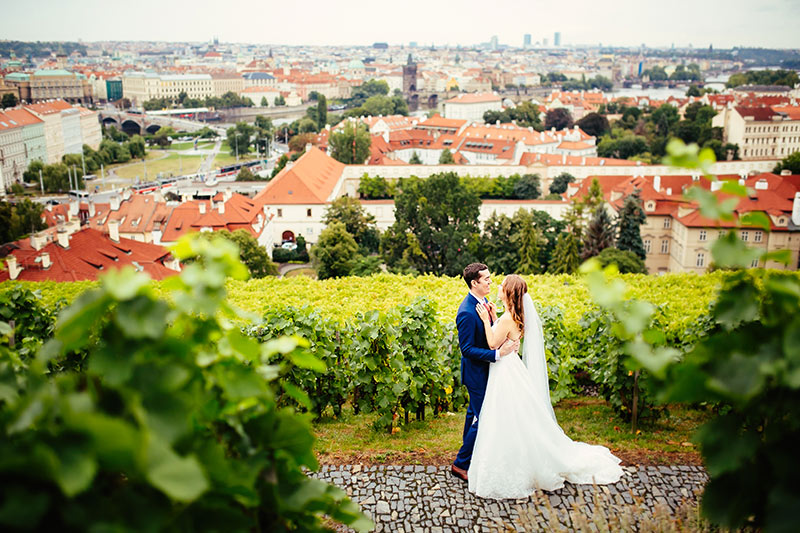 This wedding venue one of the most popular locations in Prague. It's next to Prague Castle in an old fashioned vineyard with great view to the city. You can have this location as all in one place, including preparation of a bride, ceremony and reception, but except for accommodation.
It has beautiful ceremony venue between vineyard with magnificent view, which can fit up to 90 guests. Also the restaurant has gorgeous terase for the banquet for up to 120 guests.
Terese also has a stunning view to the center of Prague.
Also near to the restaurant, inside the Prague Castle area you can find the most popular St. Vitus Cathedral, where you also can have a ceremony.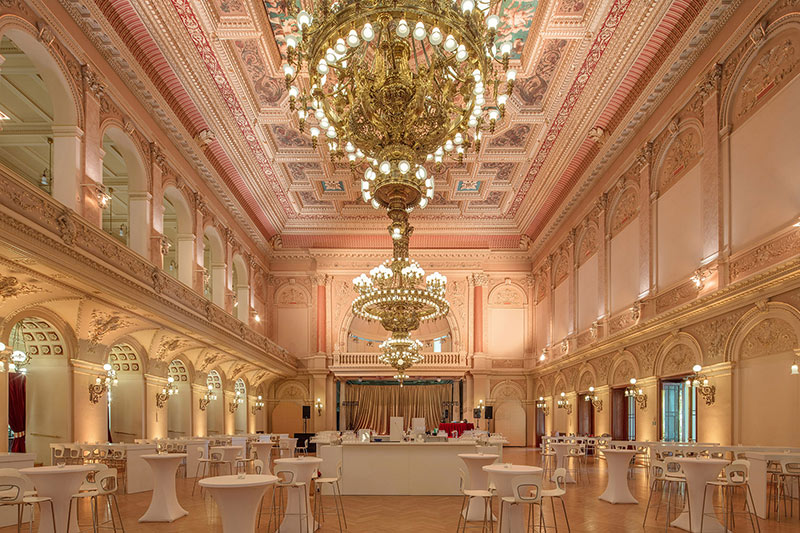 This venue is the biggest one in Prague. It can fit up to 500 guests in it's the large room. The Palace also has 4 halls, so you can choose one for your ceremony and the second hall for your wedding reception.
Also, a few years ago I shot a huge wedding, where the ceremony was just outside at the front of the Palace Zofin. It's on the Slavonic island in the center near the National Theatre. If you're planning a big wedding, this location is for you.
This great hotel with a terase restaurant is near Old Town Square, which is a huge plus. You can accommodate in this hotel, walk to Old Town Square to have a ceremony and come back to the hotel to have reception in their restaurant Zlata Praha with stunning view to the Old Town.
Here are the three most popular venues for your wedding ceremony at Old Town Squarem, which is 5-7 min walk from the hotel:
Church of Our Lady before Týn
Old Town Hall
Church of St Thomas at Old Town Square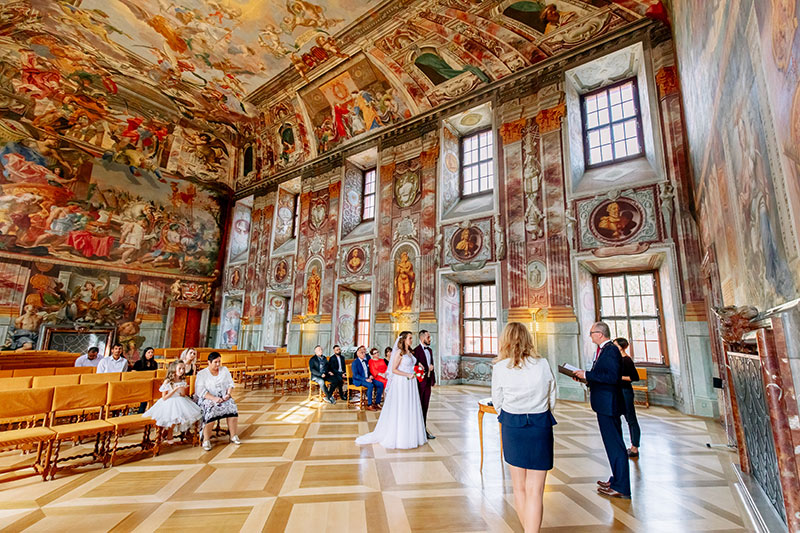 Trojský zámek — a beautiful castle of the Baroque style, one of the most beautiful summer residences in Prague. Troja Chateau is in Prague 8 district, near the Prague Zoo.
It's about a 20 min drive from the center of Prague. If you're planning a big wedding with about 150 guests, it can be a good option. You can have a beautiful ceremony and banquet indoors or outdoors of the castle, but it doesn't offer accommodation, so remember it.
If you dreamed to have a wedding in the castle and you want to have it inside the city, then this option is for you.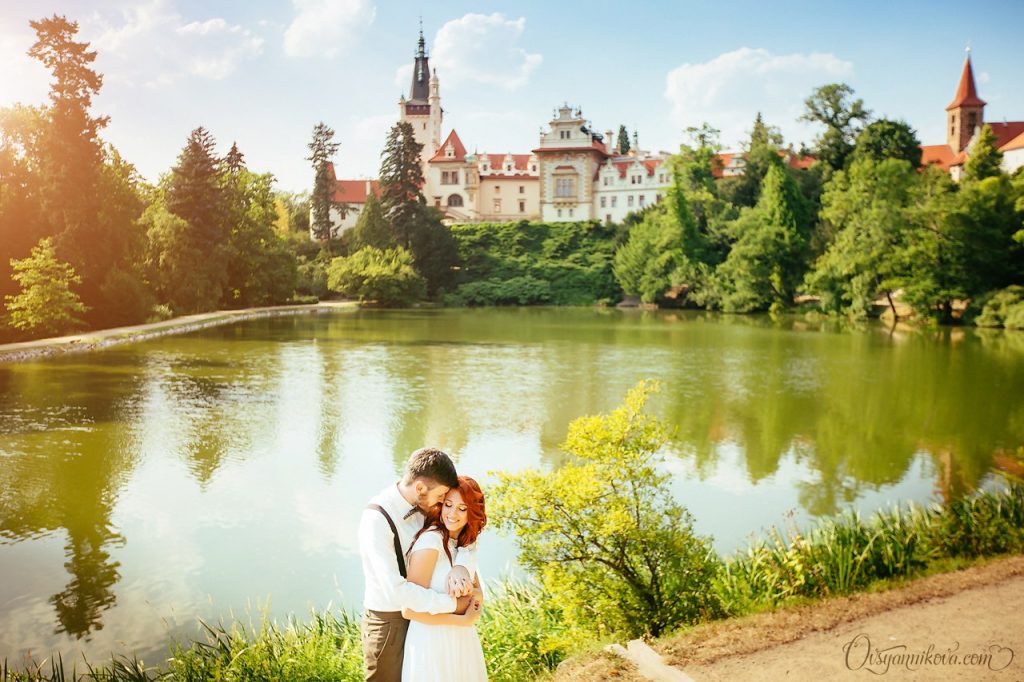 If you love beautiful castles and nature with a pond, then Pruhonice castle is your choice. The castle is technically located in Prague, but you have to drive there through the highway and it's about 25-30 minutes from the center.
You can have an amazing wedding ceremony outside in their terrasse with the beautiful view to their park with a pond. After the ceremony you can have a photo and video shoot in their garden while your guests enjoy nature and fresh air.
They also have a big hall for wedding reception and also you can have your wedding ceremony there in case of bad weather. I would suggest this wedding venue if you're planning to have around 10-80 guests.
Also I want to give you bonus tips, where as a wedding videographer in Prague I wouldn't recommend to choose these locations as a wedding venue:
1. Clementinum (Klementinum)
It has own atmosphere, kind of dark and moody. I always think, when I shoot there, that it doesn't have a wedding atmosphere. The light is really bad there for a photo or video shooting. Maybe it's good for the concerts, but not for weddings.
2. Old Town Hall
Ceremony place is small and yellow walls make this location not much suitable for the photo or video shooting, but the location is really great. It's in the heart of Old Town Square.
3. Chateau Liben
Chateau is something similar to the Clementinum. It's dark, light is not great for the shooting. Also it's located 25 minutes from the center. Even from the outside it looks ok, but not worth driving there from the center to have a wedding ceremony.
4. Kaiserštejnský palác
Palace is in the center, near the Charles Bridge. It looks great from the outside, but inside is very simple. It looks more modern and yellowish walls everywhere. So I wouldn't recommend a wedding ceremony or reception here.
Now you know many options for wedding venues in Prague. If you're planning a big wedding, I would suggest to arrive to Prague before you choose the venue and see all the locations by yourself. The photos don't always describe the atmosphere.
When you choose a wedding venue, I would recommend to make a list of wedding venues you most liked and ask your photographer or videographer for their opinion, what they think about the locations in your list.
Most of cases they know these locations and can recommend you which will look great on your photos and videos. Because the photos and videos will remind you about your most important day in your life.
Check out my wedding videographer portfolio, where you can see different wedding venues in Prague and it will help you to choose the one you dreamed about. Also if you need any advice or recommendations, just leave a comment under this article.