Many couples dream of getting married outside of their home country, so they choose to have a memorable wedding at beautiful locations like in Czech Republic.
If you have such a dream and you don't want to spend too much money on your destination wedding, or things happening around the world make you want to save some money and at the same time have an amazing memorable wedding in Prague, then you're reading the right article.
Let me help you out!
As a wedding videographer, I've had the pleasure of shooting many a wedding in Czech Republic cities and towns, including Prague, in the last 10 years. I have participated from small budget weddings to really big ones. What I've learned from that experience is that you don't have to have a big wedding to make it memorable.
So, if not the expense, what makes the wedding so special and unforgettable?
Just one word: "EMOTION"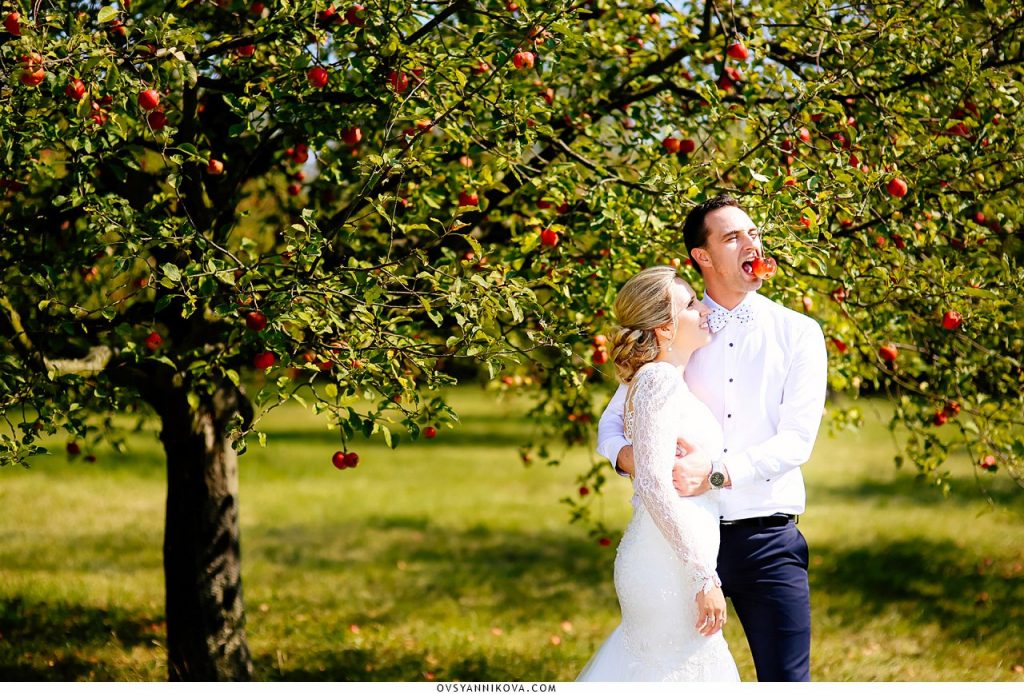 When you feel happy and enjoy your big day, that makes the day so special and memorable. A big castle, expensive dress or fancy car might help to make your wedding more beautiful, but if you don't want or can't spend a lot of money for that, it doesn't mean that you can't have a stunning wedding.
I had a couple who arrived in Prague to get married by just themselves. They truly loved each other, I could see that in their eyes; how they looked and cared for each other.
For me as a wedding videographer it was joy working with them, it was super easy to catch beautiful moments. I didn't have to ask the couple to pose or something, I just had to turn on the camera and keep filming. I could see that they're really enjoying this day and they were so relaxed and happy.
On the other hand, I've worked on 'big budget' weddings where everyone looked stressed and miserable!
You know what? This 'cheap' wedding video turned out to be one of the best of my wedding videos. It's even won the Best Wedding Video in Europe.
The couple was so happy that their wedding videos turned out so great. They told me that I created history; a memory for them so they can watch it after many years and enjoy the emotions they felt on that day.
It doesn't mean that you don't have to plan a big wedding in the castle. What I mean is you have to always try to enjoy your wedding day no matter if it's a big budget wedding or small one, because these feelings you will remember throughout your life.
Also, photos and videos will capture these feelings. It's better to invest in good people as opposed to a good place. A quality wedding team will make your day more memorable than a grandiose castle setting.
This was one of my longest intros to the article – hope you are still with me :)!
So, if you're planning a wedding in Prague and save some money, then keep reading. Here are some tips picked up by me over the years.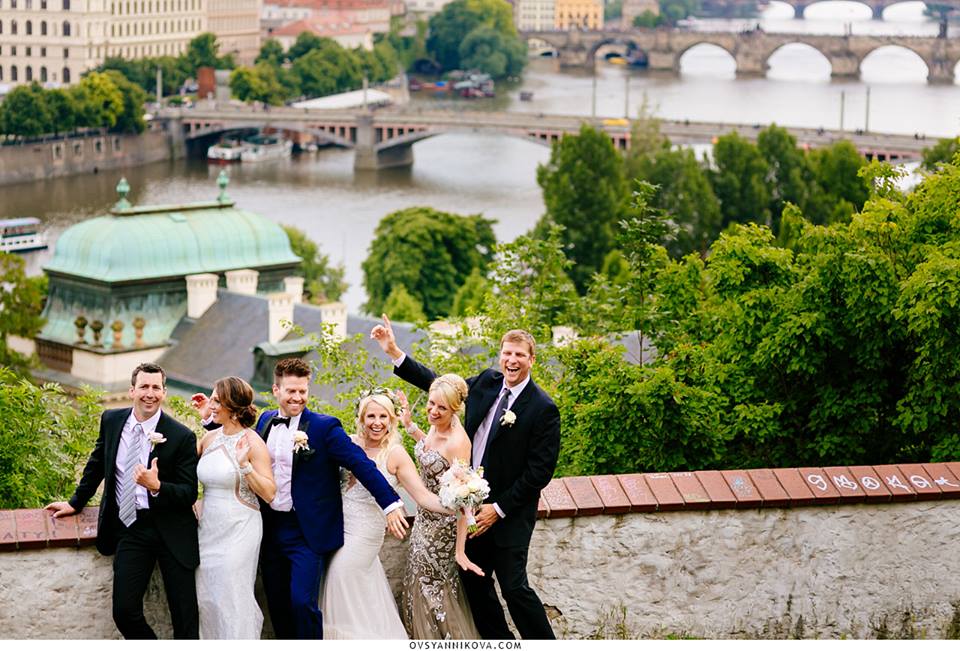 1. Getting married in Czech Republic with only family members
I know having a big wedding with a lot of guests can be fun, but it's also expensive. If you invite only close friends and family, though, you can save a lot of money. It can be a really beautiful intimate wedding.
You can always have a big party back home with all your friends and present them photos and videos you shot back in Prague!
2. Go for live streaming
It is a great additional option for my first tip. This will help the guests who couldn't make it to be with you virtually even if they are far away. They can watch your wedding ceremony live on YouTube or Facebook.
This year, because of COVID-19, live streaming is getting more popular.
So, I also decided to add this service to our wedding video packages. If you book one of our packages, you can get a live streaming your wedding ceremony for FREE until the end of this year 2020!
3. Choose a simple hotel
I always suggest to my couples to choose the hotel closest to the ceremony venue. The best option is if you can just walk there, but depending on your wedding venue location, hotels can be expensive.
So, what can you do?
I recommend that you try to find an apartment on Airbnb. There are a lot of them in the center or close to the center of the city. This option is also great, because you can rent a bigger apartment and stay there with your small number of guests.
This makes it a much more intimate, enjoyable experience than a large, expensive hotel.
4. Choose wedding venue wisely
There are a lot of small & intimate wedding venues in Prague. Choosing the best one which suits your needs can be tricky. If you didn't read my article about the best and worst wedding venues in Prague, then check it out.
When I say choose a venue wisely, I mean try to find not only the best or cheap venue, but also keep in mind other factors.
Find out how many guests fit there comfortably. Most important is the location of the venue; if you can have a beautiful photo and video shoot there or around that location, it's worth considering. Try to ask for advice from your photographer or videographer. Having everything nearby, you will save time and money. Oh, and you'll be far less stressed out!
If you ask me what the best wedding venues in Prague for a small intimate wedding are, then I will definitely say Vrtba Garden. You will find a lot of information about this venue in my other articles. It's a spectacular place that is well worthy of your consideration moving forward.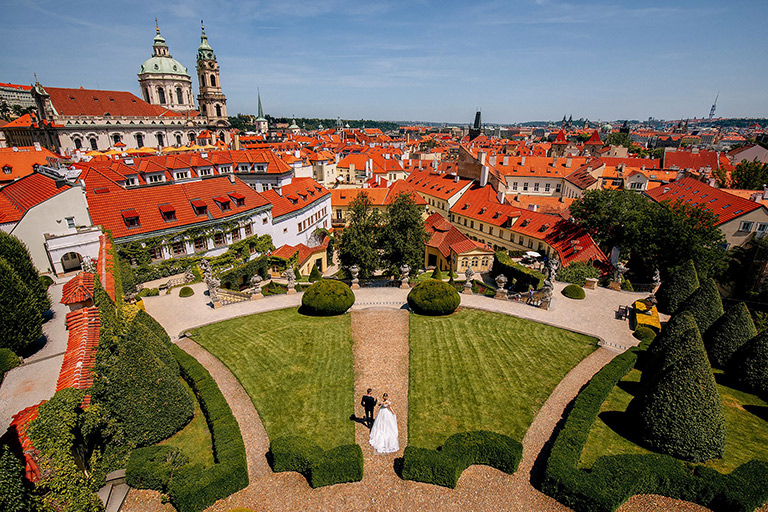 5. Get a wedding coordinator
Having a wedding planner or wedding coordinator can save you a lot of time, money and stress. I always recommend getting one. Also wedding planners might get you a good amount of discounts from the vendors than if you would order by yourself.
This will help you save more money and maybe it will cover your wedding planner's payment, so you can enjoy the day without any stress.
I know sometimes wedding planners can be expensive, or you might want to plan your wedding by yourself. In this case I would really recommend hiring a local wedding coordinator at least for your wedding day, so you can enjoy the day and relax.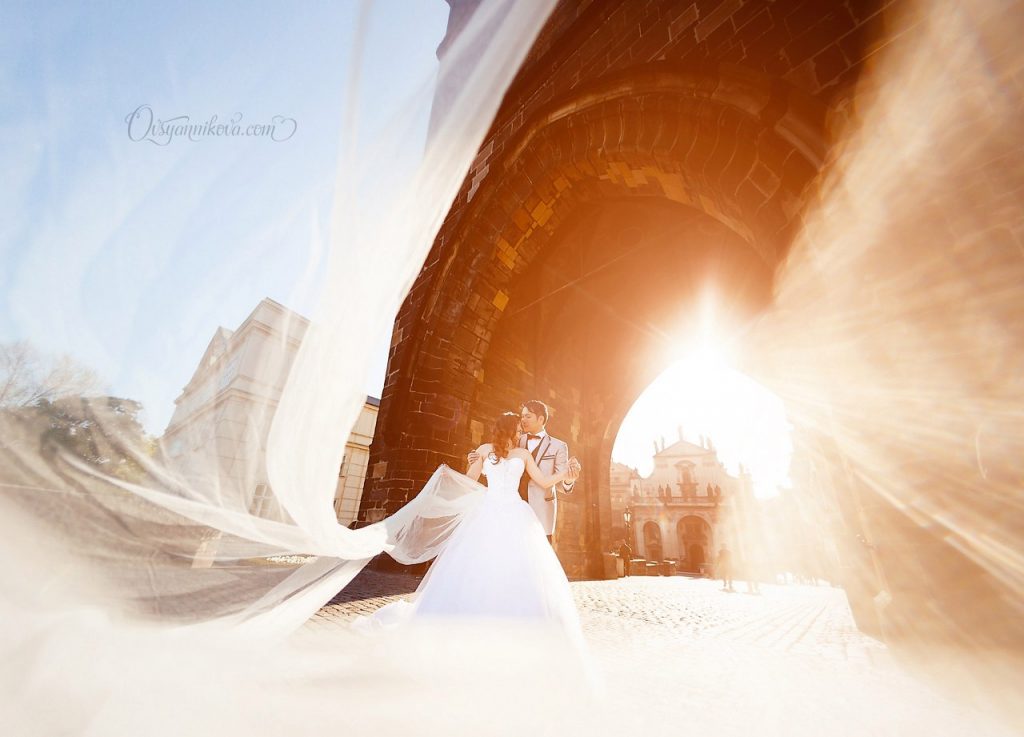 If you don't want to hire anyone, then at least make one of your bridesmaids or friends as a wedding coordinator for that day and give them all contacts of vendors, suppliers etc. The more stress you can take off your own shoulders, the better!
6. Wedding reception on a budget
I know many couples who had a wedding ceremony and photo/video shooting in Prague and didn't have any reception in the Czech Republic.
They planned to have it back at their home country, so they can enjoy it with all their friends and family. They would show the wedding photos and videos shot in Prague at this party on a big screen.
This can be a good option to save you some money.
If you have up to 10 guests, you can just reserve a table or room in a good restaurant in Prague and celebrate there after a long day.
Also, if you have more than 10 guests, you can order a buffet style of dinner at the restaurant. This option always helps to save a good amount of money whilst ensuring you can enjoy a high quality evening with the people you love most.
7. Wedding Photographer and Videographer in Prague
Even though a wedding photographer or videographer can be a big part of your budget, I wouldn't recommend saving money here. This is a lifetime memory thing, and you want it to be a great one.
I'm not saying go for the expensive option only, but I do recommend that you choose wisely. I have a great article about this. It will help you to choose the best photographer for your wedding within your budget!
Planning a wedding can be really stressful. You will find many articles and videos in my blog, which will help you to make it easy.
If you need any advice in planning a wedding or looking for a wedding videographer in Prague for your wedding, just contact me, I will be happy to assist. Also, you can find our wedding video packages and prices here.
Happy planning!