When planning a wedding in Prague, there's so much to consider. There's no shortage of advice anywhere. Everyone has advice for you. Things that they wish they'd done during their planning. So here are top 5 tips for planning a wedding in Czech Republic by me as local wedding videographer in Prague.

1. Hire a wedding planner
Deciding to get married abroad, you should be ready to trust your wedding in the hands of the wedding planner. In Prague you will definitely need someone to take care of all the formalities.
It's not easy to plan a wedding, when you don't live in that country and don't know how everything works there.
My first advice is to pay close attention to the list of wedding agency's services. A respectable agency should offer the package including the legal requirements foreigners' wedding involves. Such as document translations, interpreter (Czech to English) for the wedding day and a marriage certificate in your native language.

Apart from that, the full wedding package normally includes the wedding venue, organisation of the wedding ceremony and the wedding reception afterwards. Prague wedding agencies usually have a list of partners starting from make-up artists and musicians up to wedding videographers and photographers.
Trustworthy wedding agencies will offer an individual approach. Which means you will not find an exact price of their services on the website, only an estimation.
Usually, they will charge a certain percentage of the total wedding budget. Good idea is to check out other couples' references on different Prague wedding planners.
The most professional wedding agencies have years of experience and hundreds of satisfied clients. Not only check reviews on the wedding planner's website. Make sure to have a look at other independent sources too.
2. Wedding venues in Prague for your ceremony
Your wedding planner will essentially provide a list of most popular wedding venues in Prague.
But who said you can't do your own research?! You'd better be prepared.
While you've chosen Prague as your wedding destination, you shouldn't really limit yourself to wedding venues in Prague. Czech Republic is literally stuffed with beautiful medieval castles providing a perfect location for your Czech wedding.
For your inspiration we created a short list of the best wedding venues Czech Republic has to offer.
Vrtba garden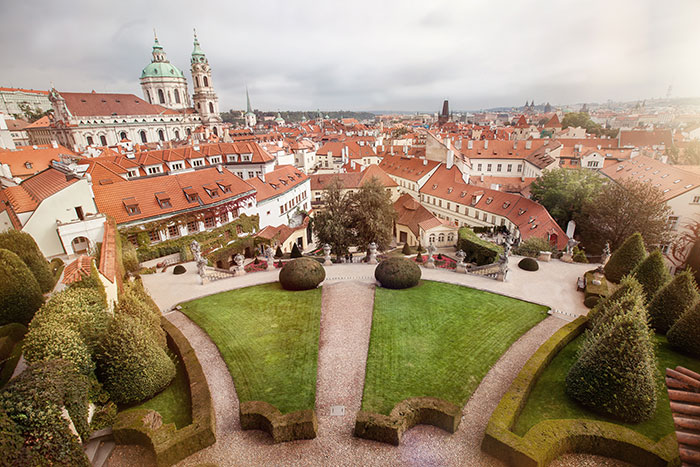 The most precious baroque garden in Prague and one of my favourite wedding venues. View from the very top point is truly magical. So it's definitely worth climbing all the way up 🙂
Thanks to the central location of the garden Prague's Old Town and Mala Strana districts will be within walking distance. So you can get some nice atmospheric shots in the streets. Please note that Vrtba garden is an outdoor venue, mostly suitable for warm weather.

Troja Chateau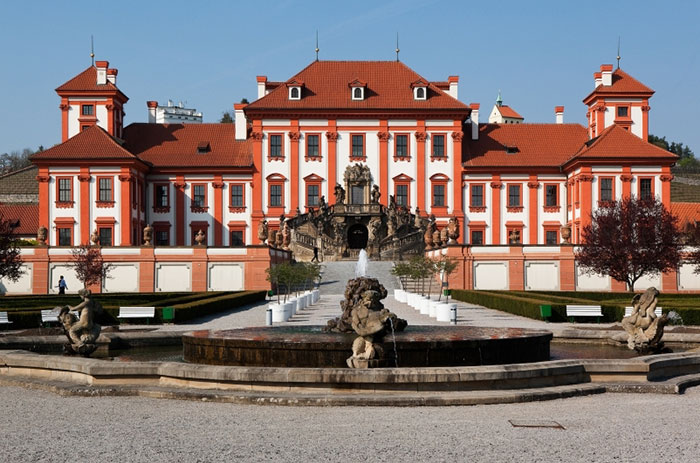 Another baroque masterpiece located in Prague. Troja palace is surrounded by beautiful gardens which make it a desired wedding location. If you dream of a wedding in a castle but don't want to take a long ride out of the city, Troja palace should be your choice. Nevertheless, it still takes about 25 min to get to Troja from the centre of Prague.
Old Town Hall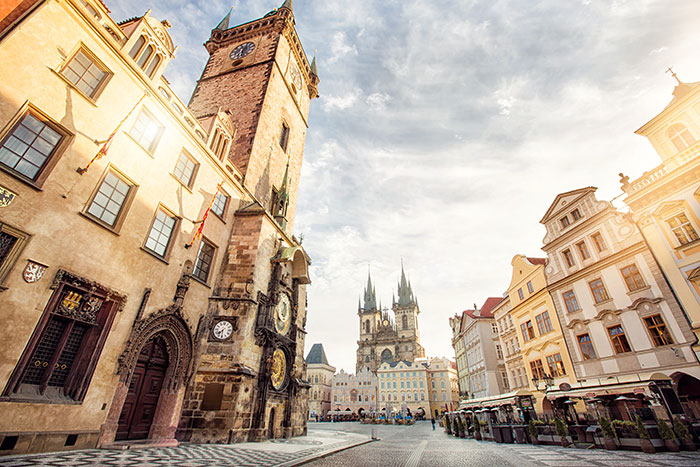 An impressive gothic structure in the middle of the Old Town Square right next to the Astronomical clock. Old Town Hall is perfect for civil weddings.
The Hall can actually accommodate up to one hundred guests. In case you decide to invite that many for your wedding 🙂 After the wedding ceremony be prepared to fight for a spot under the clock with the tourist crowd.
Pruhonice park
Beautiful and green location situated in the outskirts of Prague. It might take around half an hour to get to Pruhonice park with no heavy traffic. This location is a bit remote, however, a great choice if you desire a natural background for your wedding video.
Hluboka nad Vltavou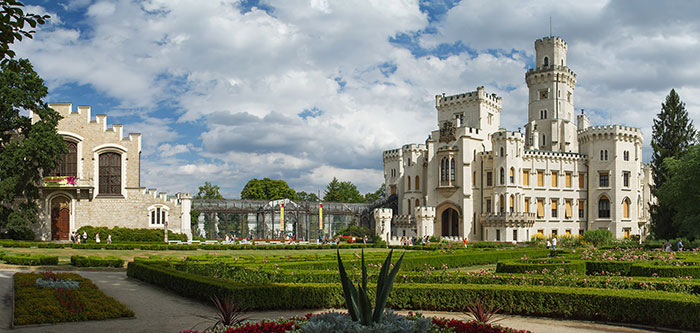 This is a dream wedding venue for any couple who would prefer to have a wedding in the castle. Hluboka nad Vltavou castle looks like it came straight out of the fairytale.
Such a beautiful location has only one downside. It's too far away from Prague. Keep in mind it takes 2,5 hours to get to Hluboka.
So for a return journey it means a total of minimum 5 hours. If you wish to book this venue, you'd better stay somewhere close not to be tired of travelling on the wedding day.
Dobris chateau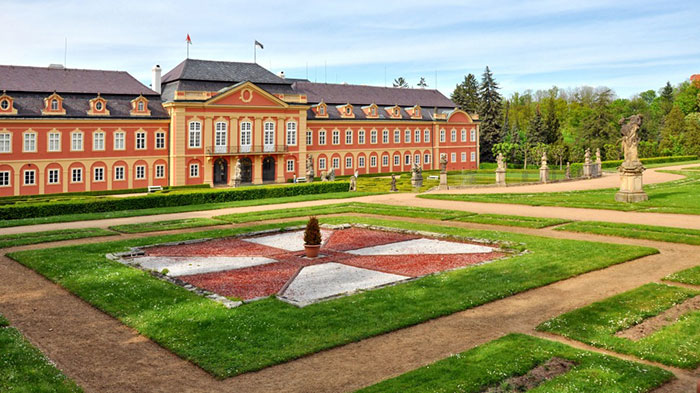 Dobris chateau is a beautiful rococo structure and a popular wedding venue at the same time. Many Czech celebrities have chosen chateau Dobris as a place of their wedding ceremony.
Due to its convenient location not far away from Prague you will easily reach the chateau by car. Picturesque chateau is surrounded by well-maintained premises including a park.
3. Set the date
Deciding on the wedding date is another big thing. The best time for the wedding in Prague will be spring or summer.
Although, Prague offers a beautiful background for wedding videos in every season. In autumn, there's a higher chance of rain, so definitely grab a couple of umbrellas for yourself and your dear guests.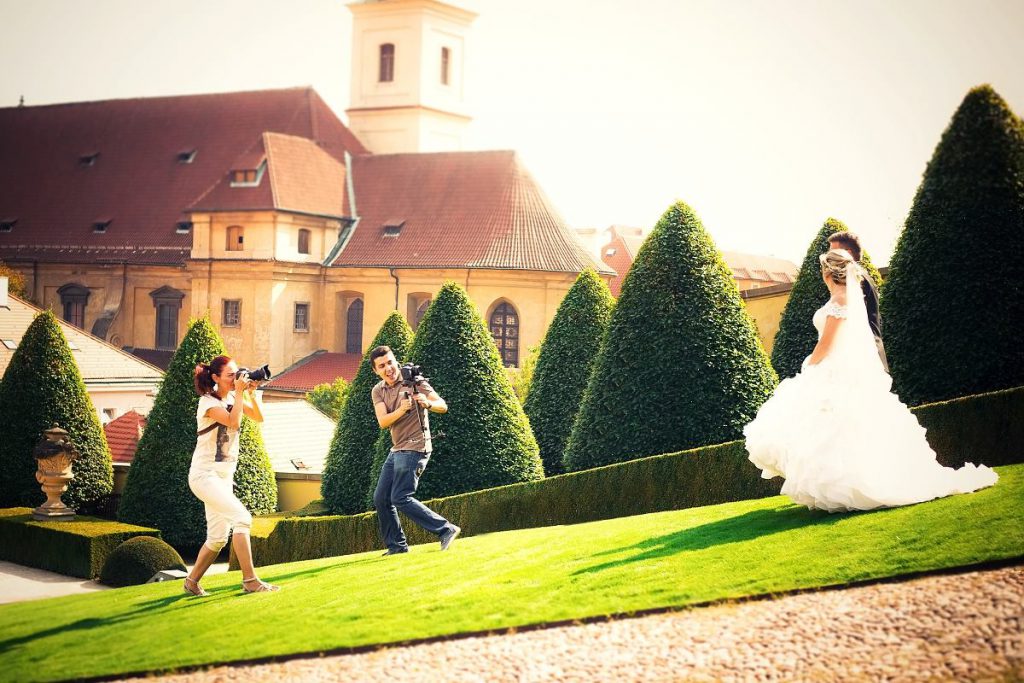 In winter one should be careful not to freeze to death. Make sure the bride has another warm layer on top of the wedding dress. The groom shouldn't forget a coat too.
When it comes to the day of the week, on working days the roads are generally more busy. Be prepared to spend extra half an hour in traffic. Saturdays and Sundays proved to be the days with less traffic.
If you want carefree travel around the city, arrange your wedding on a weekend.

4. Wedding dress
Most of the ladies will probably jump to this point straight away. It's hard to argue, that the wedding dress is one of the most important attributes of every Prague wedding.
The majority of the brides we used to work with prefered to purchase or rent a wedding dress at home and then bring it to Prague. Keep in mind, you will need a really spacious suitcase to deliver your wedding dress.
Also I recommend to read my best tips about planning Prague pre wedding shooting
Make sure you arrive a couple of days before the actual wedding ceremony. As your wedding dress will most probably need ironing after the transportation.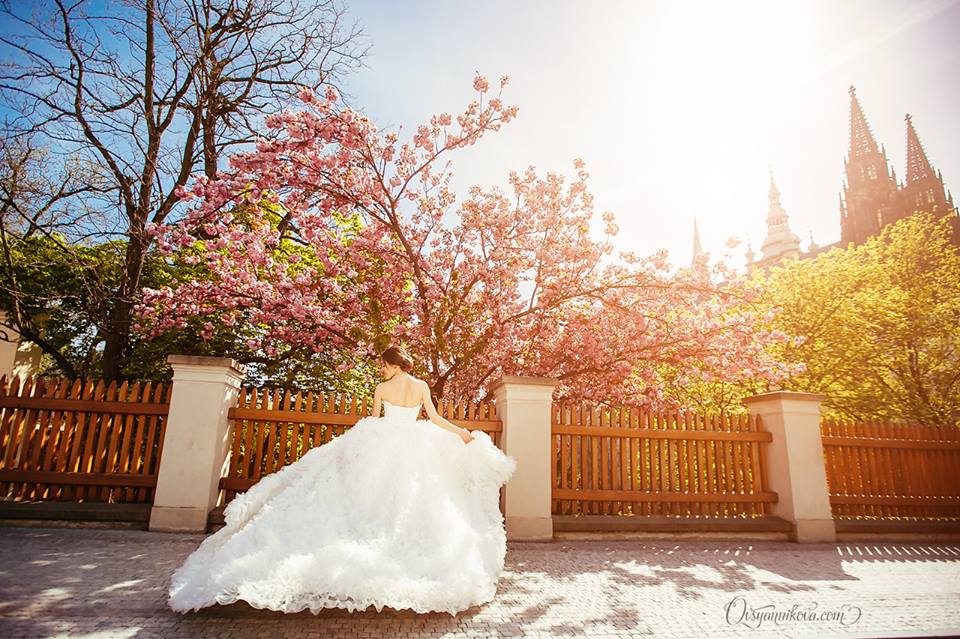 Your wedding planner can also advise you some local wedding dress rentals in Prague. This is option is suitable for adventurous brides who don't mind leaving a choice of the dress till the last moment.
Prague has a few respectable studios with a big selection of wedding dresses. This way you can not only save some room in your luggage, but will also save a significant amount of money for the wedding budget.
In your memory, your wedding day will only be as beautiful as your wedding video and pictures. A choice of wedding photographer is usually crucial for a successful wedding.
Your wedding planner will provide you a list of wedding videographers and photographers they work with. Don't limit yourself to the list, you can also do your own research and find the professional who will really suit your needs.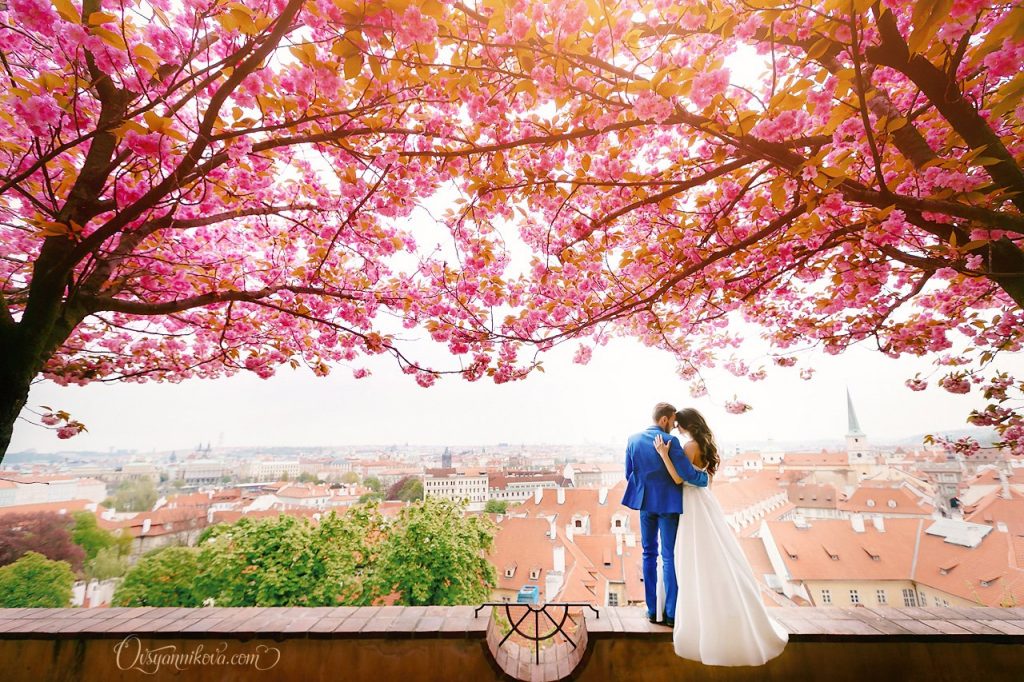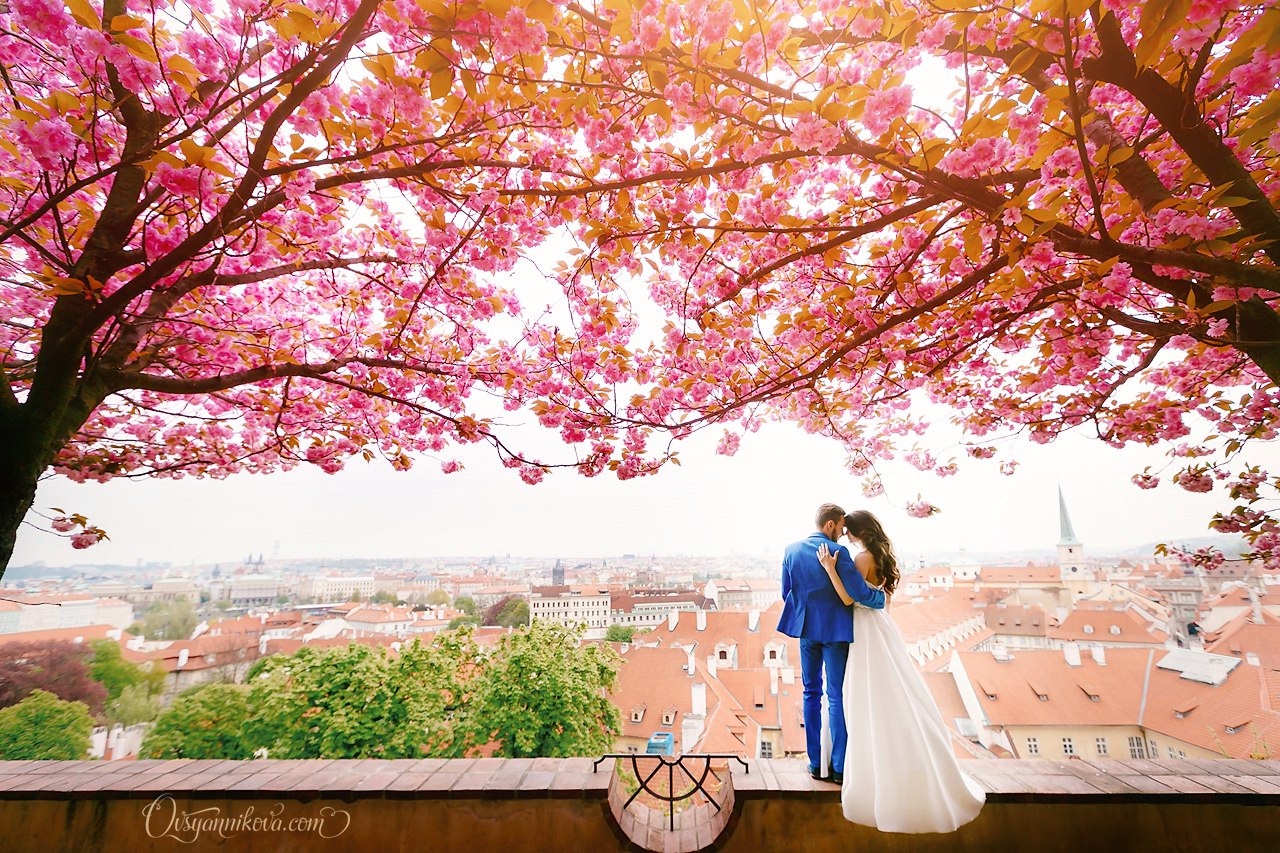 There are so many wedding videographers and photographers in Prague you might feel a little lost. Which videographer to choose, who is the best? Many photographers and videographers are self-taught, this fact can sometimes affect the quality of the end product.

Read 7 tips for finding the ideal wedding photographer in Prague by local videographer
When it comes to price range, there is a big group of beginners offering their service for a fraction of a real price. Be careful not to fall for a low price. Your wedding day is not something you can repeat. So you need to be 100% sure the videographer will do a flawless job.
The milestone of every wedding movie are your emotions. So that watching your wedding video in 50 years time, you will live your wedding day all over again.
As an example, take a look at my portfolio. Make sure to check out my wedding videos and read our awesome client's reviews on Google and our Facebook page.