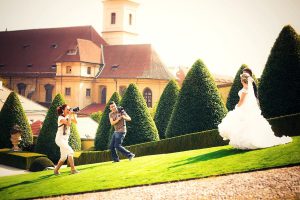 otash-uz videography offers to capture your most special moments on video, such as your wedding day in Prague or in one of the castles around the Czech Republic. If you would like to impress your wedding guests, we can offer you a pre-wedding video package or a love story video making. Our film crew led by Otabek Djuraev films all around Europe. Not only in the Czech Republic but also in Germany, Italy or France. So no matter if you decide to say 'I do' in Prague or in any other destination of your choosing, Otash-uz production team will accompany you on your special day.
Cinematic wedding videos
otash-uz videography founded by Otabek Djuraev nowadays has a separate niche in a wedding industry field. Why our wedding videos stand out among hundreds of other wedding movies? Mainly thanks to original story line and professionally performed editing empowered by soundtrack in the background. Every video we make is filmed according to cinematic principles and is a movie of its own.
Best wedding videographer
The name of Otabek Djuraev is one of the most recognized in Prague wedding industry. His way to the well-deserved title of the best wedding videographer started for Otabek Djuraev back in 2010. Today, wedding movies made by Otabek are so easily recognizable thanks to the unique author's touch. Graduation from the New York Film Academy in 2013 allowed Otabek to pursue a whole new level of creating wedding videos, level correlating with the world standards.
Individual and creative approach to every couple
Our filming crew finds an individual approach to every couple we work with. In videos by otash-uz videography there is no place for cliche or deja-vu. Here you won't see anything you would typically expect from a wedding video. Each couple's love story is one of a kind. Hence, capturing the world of these two individuals, who are so deeply in love, is a true art form. We approach each shot with creativity and freshness, which is why our wedding movies gain such a positive feedback from the audience.